There's something that feels soooo good about crossing off items on a to do list. Having a written list keeps me on track every day of the week. Most times, I grab a scrap sheet of paper and bullet my to-do's out, but it's never quite as satisfying as when they're written on a custom design. In this week's video tutorial, we'll create our own designed to do list from scratch, perfectly prepared for printing in a few quick and easy steps, so you can start crossing items off to your heart's desire 😉 All of the steps below!
How to Create a To Do List in Illustrator

Mentioned in the video:
You can pick up the 100+ Vector Leaves and Flourishes pack here
Here are the cmyk color builds for the color palette used in the video:
green: 14/0/35/6
yellow: 0/3/24/1
light blue: 33/0/15/5
medium blue: 53/0/14/23
dark blue: 88/19/0/74
Here are the free fonts used:
Bebas Neue (book)
Raleway (SemiBold)
Here's the How to Print Multiple Layouts on a Page tutorial that was also referenced in the video.
Short on time? Grab this to do list as a free printable here or check out a second design here! 

There's often a debate on when to use InDesign vs. when to use Illustrator. If you're ever unsure about which is best for your project, here are a few tips so you'll know what's right immediately:
Use Illustrator when:
– You need 5 artboards or less and have a limited amount of copy (text) on those pages
– You need to manipulate/edit the actual artwork on your project
– You are doing more art making than text setting

Use InDesign when:
– You have a large amount of text in your document
– You only need to place images into your document
– You have a larger number of pages with text
Remember! If you have a large amount of text, create your artwork in Illustrator or Photoshop, then file > place that artwork into InDesign. InDesign should be used as a text setter and editor above all else, not a raw artwork-creator 😉 InDesign has a print (cmyk) color setting by default since it's most often used for print. If you're placing images from Photoshop into InDesign which need to be printed, be sure you've changed those images to CMYK in Photoshop (image > mode > cmyk) so you'll avoid any color issues when your InDesign file goes to print.
Receive special offers on courses + products, a new design file every month plus instant access to the Resource Library!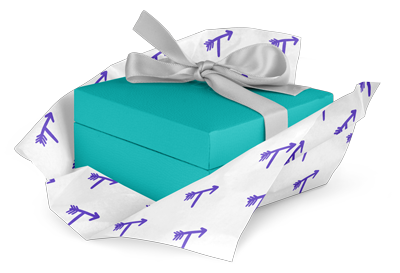 Pick up over 50 design + lettering files as our gift to you when you join the Tuesday Tribe for free!
Congrats!
Please check your email to confirm.