I was surprised to receive a number of emails lately asking which home inkjet printers I recommend. After using different printers at all of the jobs I've held, plus using my own home printers (which I used for a stationery biz I once had – story for another time), there are two that have always stood out for me. Both are listed below with specific reasons why they're my favorites, along with my favorite paper to use with them!
Pin it for later!
My Favorite Home Inkjet Printers
Let me preface this by saying getting both of these is certainly not necessary for every home crafter or designer. Your specific printer needs will determine which is most useful to you. Along with why I use and love both of these, I've also listed any negatives associated with each. I hope this will be helpful the next time you're in the market for a new printer!
My previous needs as a designer required me to have both regular format and medium format home inkjet printers. The main difference between the two is that regular format printers generally don't print larger than 8.5″x11″ (or A4) documents, while most medium formats can print up to 13″x19″. Medium format printers typically include borderless printing options (since they can print on larger paper) and have a number of different ink tanks which produce higher quality photo prints + richer colors. Many regular format printers now come with an included scanner bed, while most medium formats do not. Many regular and medium formats also include wireless printing capabilities now, too.
Inkjet vs. Laser Printers
Laser printers use toner (colored powder) which is applied to sheets of laser printer paper with heat. The affixed toner sits on top of the paper in its final, printed form and has a plastic-like shine to it. Laser printers can print very fast, and are great for longer page documents or test prints. Inkjet printers use liquid ink, which seeps into the pores of paper rather than sitting on top. No heat is needed in an inkjet printing process and final prints take on the finish of the paper they're applied to. Because of the added customization abilities, inkjet prints from high quality printers can produce more unique, professional quality prints than laser printers. If you have an etsy shop, create or sell stationery, I recommend printing your work with an inkjet printer if you aren't having them professionally printed.
Favorite regular format inkjet printer: 

Canon PIXMA MG3620
The Canon PIXMA MG3620 is the newer version of my regular format (my old one is a Canon MP480). I love that I can scan at up to 600dpi (especially for textures), and it's small enough where it doesn't take up substantial desk space. It's light, offers wireless printing and provides a variety of print capabilities (fast black and white to high quality photos). The printer component has worn out over the years on me, so I'll need to be replacing mine soon, but it printed well for over 5 years. The scanner is still going strong, which is what I use it most for these days. If you need a handy, all-in-one regular format inkjet printer, this is the one I'd recommend.
Favorite medium format inkjet printer: 

Canon PIXMA Pro-100
The Canon PIXMA Pro-100 is the newest version of my current medium format (I have the PIXMA Pro 9000 MarkII). I've had my medium format for over 5 years and it still prints perfectly every.single.time. The back opens up for larger sized prints, so it can print like a flat bed which is pretty cool. I printed my entire graphic design portfolio on an even older model of this one 9 years ago and the richness of color (even then), was impressive. The ink *does* get pretty pricey when you go this route, so I typically do test prints on a regular format or laser printer first, then move to the medium format when I'm ready. All that ink is well worth it though; the vibrancy of the prints is stunning and the ability to print at such a larger size (up to 13″x19″) is just icing on top.
I know, right?! Not what you'd expect – I definitely didn't. They add magic to this paper when they make it, I swear. It has such a soft finish and the ink just soaks right into it. It's acid free, so it doesn't yellow over time, it's tear + curl resistant and thicker/sturdier than you'd expect. It creates photo prints you wouldn't think were possible – even more so when used with a medium format printer. Always make sure the 'high quality matte photo' print setting is selected when printing on this paper. I fell in love with the quality so much that I printed my college graphic design portfolio on it (interviewers were always impressed with the print quality). You know, back when printed portfolios were a thing.
There you have it! My favorite home inkjet printers – do you have a favorite printer or paper? I'd love to hear!
Receive special offers on courses + products, a new design file every month plus instant access to the Resource Library!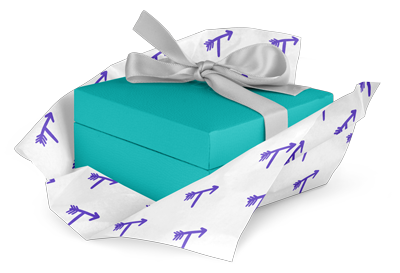 Pick up over 50 design + lettering files as our gift to you when you join the Tuesday Tribe for free!
Congrats!
Please check your email to confirm.