I experiment with new materials and supplies constantly for my (traditional) hand lettering. I would actually be scared to know how much time I've spent eyeing different hand lettering supplies (and reading their reviews) over on Amazon. I've invested in a lot of new ones this year and currently I have 5 favorites that I find myself always returning to and reordering. If you're just starting out with lettering, or if you're on the hunt for some new supplies but would like to read a real (almost every day) user review, here are my current top 5 favorite hand lettering supplies (totally unbiased, with no affiliation to any of em) 🙂
Top 5 Favorite Hand Lettering Supplies
Click on any name or image to be brought to that product's detail page
The tip on this pen is super soft, easily giving you contrast in your lines depending on your pressure. It also works great for a uniform weighted line and comes in a bunch of different colors, too. My favorite use so far is creating faux drop shadows on thicker lettering, like in this time lapse.

Don't get me wrong, I love a good Tombow, but so far my Lyras have consistently been giving me a longer life span. I love the look of a slowly dying brush, but before I  know it, those Tombows are kaput (and so are those dry brush effects). I was super disappointed with the variety of colors that came with the 24 pack, though. Up side is they're great markers and reasonably priced, so although I'm annoyed, I still use them often.
One of my biggest change ups lately has been moving more towards this guy over my waterbrush filled with ink. It's been awesome for that rougher brush lettering look (I get the extra fine tip one). It creates a lot of really nice, distressed strokes, but I still prefer my waterbrush when I want the stroke less rough. The Pentel Fude requires a pretty generous squeeze to keep fully solid strokes, so I use it specifically for textured strokes.
This has got to be my favorite find this year and is an awesome brush pen if you're just starting out. I haven't tried the hard nib yet, but plan to! The pen is really receptive to pressure, has an awesome texture and is fun to write with. I've already started creating my next font with it, too! A bonus is that it comes in 3's and the packaging is all Japanese. When it arrives, it makes you feel like you've just scored something really special, which you have, of course. 😉
I haven't experimented too much with paint markers, but these have been great. I found them in the craft aisle at Walmart for a reasonable price, and no complaints yet. Because of that, I haven't had a need to explore further yet. They work super well (white, metallics and black) on top of watercolor and kraft paper, which are my main uses. The fine tip is perfect for larger artwork and I use the ultra fine tip for all of my more detailed areas. Check out this lettering time lapse for an example!
Do you have any recommendations? I'm always on the hunt for new supplies, so I definitely welcome new additions!
Receive special offers on courses + products, a new design file every month plus instant access to the Resource Library!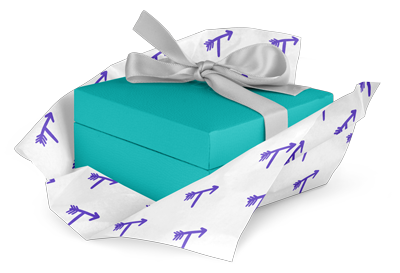 Pick up over 50 design + lettering files as our gift to you when you join the Tuesday Tribe for free!
Congrats!
Please check your email to confirm.