One of my favorite parts about this year was experimenting with more art supplies than I ever have before. I definitely didn't love everything I tried, but I do have a list of favorite art supplies from 2016. I thought it would be nice to compile them this week into one nice, review-like list. If you're looking to try some new ones in 2017, I hope this will help with the decision making. Reading actual (unbiased) user reviews is always so helpful for me, so that's exactly what I wanted to offer. See the full list below!
Pin it for later!
Round Up: My Favorite Art Supplies From 2016
Category: Writing Utensils
Microns have been my favorite inking pen for as long as I can remember, so excluding them from a favorite art supplies list – no matter the year – is impossible. Why do I love Microns? Microns give you a gorgeous rich black and don't soak through the paper. I use thin (cheap) copy paper all the time to sketch out ideas, and even when I go at it with a Micron, nothing bleeds through. There aren't any fuzzy edges to my artwork, either, where most pen ink will seep into the paper's surrounding fibers. The only thing I don't like about Microns is that there isn't a smooth taper from the barrel of the pen to where it transitions to the tip. There's kind of a hard edged drop off and it can dig into the side of your finger, depending on how tight and the way you hold your pens.
---
If you're just getting into hand lettering and not sure if you want to invest in the 'best of the best' supplies, Le Pen is an excellent alternative to Microns. I like saving the life of my Microns by using my Le Pens when I want to sketch something out in ink. If I love what I've made, then I'll create a final version using my Microns. Le Pen ink *does* tend to seep a little into the surrounding paper fibers, but if you're just using it for sketching as I do, then it's no sweat.
---
The Fudenosuke soft tip brush pen is by far my favorite writing utensil of the entire year! It is SO easy to create thick and thin strokes, to test out styles and just to write with. My entire font, Espresso Roast, was created exclusively with the fudenosuke. The black is rich, the barrel is soft + comfortable and the pen lasted longer than I thought it would. Plus it comes in awesome Japanese packaging – what more could a girl ask for?
---
How could the Fudenosuke possibly get any better? Put a grey version on the other end and call it a twin tip! I love this pen for doodling grey shadows and lettering in grey when I need a break from the black without switching utensils. These are now available in a 3 pack + 5 pack, so I'm stocking up!
---
I've definitely tried a *few* embossing pens this year. Some wore out super quick, some tips broke down like crazy and some simply dried right out after I got them. My ranger (bullet tip) ones are still going strong though! They make the favorite art supplies list because they're the best of all I've tried – if you're tempted by any 'embossing brush pens' (to avoid putting the thick strokes in manually) just steer the other way – they've all been disappointments and I haven't found a single one I'm excited about yet (will report back if I do!).
---
Category: Watercolor
I had been using my Pentel tube watercolors for a solid 6 months when I decided to see what kind of difference investing a little more in a new set would make. I found the Koi's, read great reviews and decided I would give them a shot. The tubes are much bigger than I had expected – the color is super vibrant and I haven't had a tube dry out yet (I've had numerous Pentel tubes dry out on me).
---
I've been using my Pentel waterbrushes for a little over a year now, and they're one of the supplies I use on a weekly basis. The small sized one has proven to be my absolute favorite. I love the stiff bristles for creating crisp lettering, I love controlling the flow of the water, not having to dip into a water cup and how easy clean up is with them. This year I started using them with FineTec watercolors (see below) and they continue to be super reliable.
---
Concentrated watercolors took a little getting used to when I first started with them, but now they're one of my favorites. I love how crazy vibrant they are, even after drying. I like creating different blends with my lettering, alternating colors with them and making super colorful textures with them. Tubes come close with the vibrancy level, but the concentrated watercolors really are on a level of their own.
---
If you follow me on Instagram, you know I have a serious thing for FineTecs. They're definitely on the pricier side, but once you start using them, you can see that it's justified. I can't wait to add more to my collection in 2017 – they're always coming out with new colors and experimenting with them on black has resulted in some of my favorite artwork from this entire year.
---
I'm asked pretty often which kind of traditional brush is best for watercolor lettering. I've tried a bunch of sizes and a bunch of brands, and without a doubt, I can tell you my favorite is the no.1 round Winsor & Newton. The bristles stay nice and in order after every use, there's no shedding, it moves perfectly with my hand motions and is the ideal size (for me, at least) when I'm lettering. It's a little bit of an investment, but knowing what I know now, I would have bought this one first and never thought about getting another. …unless I needed other sizes, of course 😉
---
Category: Paper
I first purchased Astrobrights to use with my FineTec watercolors. Since the FineTecs dry pretty quickly and don't need a ton of water, the Astrobrights worked perfectly, despite them just being cardstock. The black was rich and perfect for what I was using it for. When I started embossing on different colored paper later in the year, the Astrobrights surprised me again in all the best ways. Would def recommend!
---
Obviously this watercolor paper isn't what you'd use to create a watercolor masterpiece painting. For watercolor lettering and textures, though, I really believe you can't go wrong with price vs. value. The biggest downside is, if it gets too saturated, it'll start to curl or bow. You can fix this by taping your edges and keeping an eye on your water usage. Since lettering doesn't use an uncommonly abundant use of water, it's pretty perfect.
---
Category: Miscellaneous
I'm still in the experimental phase with embossing powders, trying out new brands. So far, my absolute favorite has been Ranger's metallic powders. They're super fine and heat up beautifully, so they're rounding out the favorite art supplies list. I'll definitely be buying these again!
---
Do you have any favorite art supplies from the past year you'd recommend? Share em in the comments below!
Receive special offers on courses + products, a new design file every month plus instant access to the Resource Library!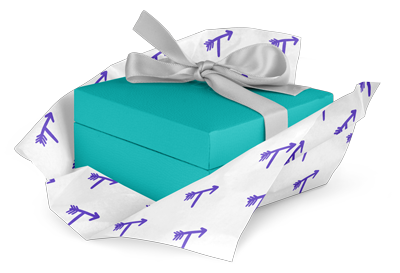 Pick up over 50 design + lettering files as our gift to you when you join the Tuesday Tribe for free!
Congrats!
Please check your email to confirm.