I remember sitting in my Color Theory 2 class at SCAD (12 years ago!) and we were given an assignment we had to use gouache for. 'Gouache?' I thought, "Can't be that different from acrylics, can it?"
It was the first time I had ever heard of it, let alone had any knowledge of how to use it. Since sitting in that classroom that day, I learned that 1. yes, it is definitely different than acrylics and 2. it's actually pretty amazing.
In this week's tutorial, I'm taking you through gouache basics – how to mix colors, water ratios + what makes it so amazing to work with. Together, we'll paint leafy gouache letters (or shapes!) that can be used for wall art, stationery or gifts! Read on to see it all!
Pin it for later!
Paint Leafy Gouache Letters
Mentioned in this tutorial:
Arteza is offering all Every Tuesday readers 10% off their order when they use the code TeelaCunningham3 at checkout from now until July 5, 2019!

Here are some tips for using gouache to paint leafy gouache letters!
What gouache is:
Gouache is different than watercolor in that it is opaque. Its composition includes white pigment or chalk to obtain this opaqueness. It's similar to watercolor in that it can be 're-awakened' once it has dried and you mix it with water to use it. You can also dilute it down enough where you can obtain some opacity to it like watercolor. It dries in a smooth, matte finish and unlike watercolor (but similar to acrylics), you can paint light colors right on top of dark colors; color layer order does not matter. It's easy to clean since it's water-based and since you use less water with it than watercolors, you're not limited to only using it on watercolor paper (though it's the recommended material of choice).
Painting leafy gouache letters:
Print out the letter of your choice in your favorite font. Trace the back side of the letter using a soft pencil. Trace the front side of the letter using a hard pencil with the paper you'll paint on underneath. This transfers the shape of your letter onto your paper.
Mix your gouache. Start with one drop of water and add more as needed. Go for a 'house paint' consistency – not a paste!
Begin painting one kind of doodle in one color all the way around your letter. Change to a different doodle in a different color and go around your letter again. Repeat until your letter is surrounded by different colored doodles.
Allow to fully dry, then erase away your pencil marks
Done!
˙If you choose to purchase using this link, it means I may make a commission at no additional cost to you. I only promote products I've personally used, trust and believe in. Thank you in advance for supporting the free content on Every Tuesday!
Receive special offers on courses + products, a new design file every month plus instant access to the Resource Library!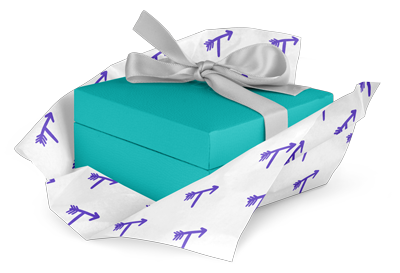 Pick up over 50 design + lettering files as our gift to you when you join the Tuesday Tribe for free!
Congrats!
Please check your email to confirm.