Jamie got in touch with me a few weeks ago, asking how to recreate the letters in this image. I loved that idea, though I had a bit of trouble tracking down the original source. I also wasn't totally sure what to call this look, so we're going with 'pattern letters' 😉
Essentially, we have letters with a multiply blend mode (so you end up with three colors including the overlap), plus a pattern element integrated into one of the strokes of the letter. This creates a semi-dimensional look, plus a beautifully colored one – perfect for modern headlines (or even logos!). Read on to create your own!
Pin it for later!
How to Create Pattern Letters in Adobe Illustrator
Mentioned in this tutorial:
Colors used in this video (RGB):
Teal: 22/149/163
Pink: 255/169/231

Here's a quick summary of what we did in the video, for future reference!
Type out your letters, then convert them into shapes by going type > create outlines. Ungroup them.
Using your pen tool, create a shape around the stroke of the letter you'd like to separate.
Select the letter and the new shape and hit the divide icon in your pathfinder palette and ungroup. Delete any remnant shapes and readjust any points as necessary using your direct select tool.
Create your line pattern. Use your rectangle tool to create a skinny rectangle, rotate to the desired angle and use the blend tool to create multiples. Once the multiples are created, go object > expand, so they become individual shapes, but remain grouped.
Clipping mask your line pattern into the separated stroke you created earlier.
With the remaining part of your letter, apply the desired color. With it still selected, hold alt, then arrow down once to create a copy. Nudge until the duplicate is offset as desired, then recolor. Place the duplicate behind everything, then apply a multiply blend mode to the top color. Group all components of the letter together.
Arrange all finished letters to complete your word(s). Done!
Receive special offers on courses + products, a new design file every month plus instant access to the Resource Library!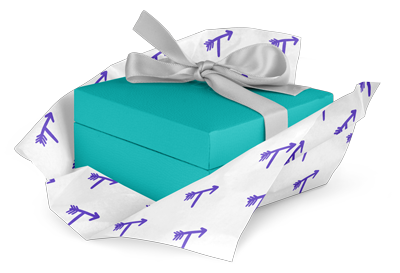 Pick up over 50 design + lettering files as our gift to you when you join the Tuesday Tribe for free!
Congrats!
Please check your email to confirm.