I really hope you've been enjoying these holiday Adobe Illustrator tutorials! They've been extra fun for me to share, and today's video is no different. In this tutorial, we'll create seamless pattern wreaths, once again utilizing the free holiday vector pack. These are really impressive looking and so, so easy to create! In the video, I walk you through the one thing to keep in mind when you make yours and then show how easy they are to use! Read on to see the full video!
Create Seamless Pattern Wreaths in Adobe Illustrator
Mentioned in the video:
Here are the previous holiday (Adobe Illustrator) tutorials in this series:
If you'd like to apply these tips + techniques using your own hand drawn elements, here's a tutorial on how I vectorize hand drawn doodles. If you have an iPad Pro + Apple Pencil, check out this technique that I've been using (and love).
Here are the color builds (CMYK) for each of the wreath designs mentioned in the video:
Wreath #1
blue: 60/40/50/10
pink: 10/55/50/0
Wreath #2
pink: 10/55/50/0
brown: 50/50/95/30
tan: 30/30/55/0
green: 50/30/90/10
blue: 60/40/50/10
Wreath #3
red: 10/60/65/0
pink: 10/55/50/0
light pink: 5/20/10/0
grey: 30/25/30/0
tan: 30/30/55/0

When you create your own vector pattern wreaths, here are a few tips to keep in mind:
Keep the design breathable since it'll be repeating. This will make the area where the transition occurs to appear more seamless. Little filler elements are your friends! Especially if you're just getting started with pattern brushes 😉
Test out a few duplicates together, matching up where one bounding box ends and the other begins. This will give you an idea of what you can expect when they repeat. This also gives you an opportunity to adjust before making the brush.
Keep your elements facing side to side (horizontal) vs. up and down (vertical) to keep your elements repeating along the path.
To adjust the size of your elements once applied, utilize your stroke palette (window > stroke).
This tutorial is best used for rounded/elliptical paths since we didn't define corner elements. If you have corners, your elements will appear stretched (a future corner tutorial is on my list!).
Receive special offers on courses + products, a new design file every month plus instant access to the Resource Library!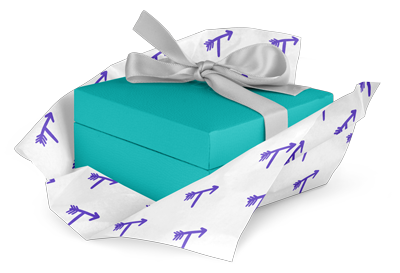 Pick up over 50 design + lettering files as our gift to you when you join the Tuesday Tribe for free!
Congrats!
Please check your email to confirm.