If you're an Every-Tuesday subscriber, then you already received this brush lettering with watercolor supply list in your inboxes yesterday 🙂 It's too useful of a resource not to share, so I wanted to also bring it into the blog this week. Having the right supplies can be a serious road block when you're just getting started, and a costly one at that. After going through my fair share of supply testing (and cash), I've compiled a list of my absolute favorites. For those on a budget, or if you're not sure if this is for you, I've also included a separate list of comparable, lower priced items 😉 My newest master course, Brush Lettering with Watercolor is now open if you'd like to put these supplies to use!
Brush Lettering with Watercolor Supply List
Grab the full, master supply list as a clickable pdf here!
Here are a few of my favorites from the list and why I love em 🙂
Tube Watercolors
notes
In my experience, the Koi watercolors are a bit more vibrant and less thick/dry than the Pentels, so they're a bit easier to work with, but both yield equally beautiful outcomes.
Pan Set Watercolors
notes
The Winsor & Newton pans are very concentrated and vibrant for pans. The Koi pan set is a really nice alternative to the Winsor & Newton, but if your budget is extra tight, the Artist's Loft is a great starter set for experimenting!
Concentrated Watercolors
notes
I've been using my Hydrus set for almost a year and I haven't used half of any color yet. They're extremely vibrant and so fun to work with! I haven't tried the Color Splash, but it has some great reviews, so it seems to be the best alternative. There really aren't any middle-ground options aside from purchasing Hydrus bottles individually.
Watercolor Paper
notes
I've been using the Canson for a while now and I still love it. It gets a bit wavy with saturated washes, but for lettering, it's really ideal. The Strathmore has a bit more tooth, or deeper texture, which is the greatest difference between the two.
Waterbrushes for Lettering
notes
If you haven't used a waterbrush before, I can't recommend getting one enough! They are really easy and fun to use and eliminate the need for a water cup entirely!
Watercolor Paintbrushes for Lettering
notes
The kind of paintbrush you use really does make a difference when it comes to lettering. It *is* an investment, but it's a brush you'll use forever. I've had my Series 7 no.1 for over a year, leaving it hours on end in a dirty water cup and it cleans up and behaves like new every time. I totally get wanting another option here, so I would recommend the da Vinci.
Pick up your free brush lettering with watercolor supply list here!
Brush Lettering with Watercolor, the ultimate course on creating eye catching, colorful brush lettering, is now open!
Receive special offers on courses + products, a new design file every month plus instant access to the Resource Library!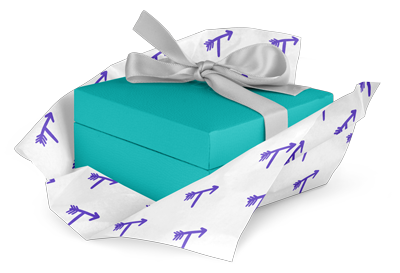 Pick up over 50 design + lettering files as our gift to you when you join the Tuesday Tribe for free!
Congrats!
Please check your email to confirm.