I got my hands on these watercolor brush pens a few weeks ago and I haven't been able to put them down! One of my new favorite ways to use them is by making colorful feathers and adding in details using gel pens. Since they blend with water so perfectly, there are so many ways to create colorful patterns and blends. In this week's tutorial, I'm sharing my process for creating your own colorful feathers using watercolor brush pens. Read on for all the supplies + details!
Pin it for later!
Paint Colorful Feathers using Watercolor Brush Pens
Mentioned in this video:

Here's what we did to create colorful feathers using watercolor brush pens!
Using a hard pencil, draw an oval shape on watercolor paper.
Randomly insert negative space within the feather. Use an image of a feather for inspiration if needed.
Finish the feather sketch by drawing random pieces of feather towards the base.
Choose 2-4 colors that blend well together. Begin coloring areas with the brush pens roughly, leaving space in between colors to blend them.
Using a waterbrush, begin blending the colors together. A little bit of water goes a long way! Have a paper towel handy to clean the tip of the waterbrush after blending two colors together. By cleaning the tip frequently, the colors will stay vibrant and won't get muddy.
Allow your feather to fully dry. Using a white gel pen, draw circles and dots on the feather for extra detail. Use a metallic gel pen (gold shown) to trace along the outside. Draw along the spine of the feather to separate sides + add in extra lines along the sides to enhance the look of the feather. If you'd like to add extra shine, use stardust gel pens that match the color of your watercolor. Done!
Receive special offers on courses + products, a new design file every month plus instant access to the Resource Library!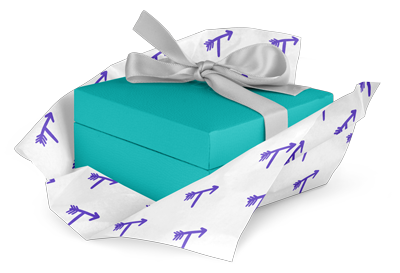 Pick up over 50 design + lettering files as our gift to you when you join the Tuesday Tribe for free!
Congrats!
Please check your email to confirm.