One of my favorite discoveries of the past year is a product called BRUSHO. It's essentially concentrated, powdered watercolor, and it's awesome. It took me some time to find the best process for using it with my DIY artwork, so in this week's tutorial, I'm sharing everything I've learned! Skip all the troubleshooting/wasted material I went through and let's create a Father's Day card using BRUSHO together!
Pin it for later!
Create a Father's Day Card using BRUSHO
Mentioned in this tutorial:

Here's what we did to create a Father's Day card using BRUSHO!
Use a larger than needed piece of watercolor paper and plot out your card dimensions. I score mine, but do not cut off any edges.
Use the excess edge material for your tape. Tape the panel of the card you're using with BRUSHO securely on a cutting mat or other non-porous surface.
In the center of your panel, place additional tape (or masking fluid if you'd rather) as a place for your lettering to go so it's readable.
Start spattering your BRUSHO! Using an old paintbrush with frayed bristles, gently dip into a BRUSHO container and flick the powder onto your panel. Work from lightest color to darkest color and add variety where different colors are placed for extra contrast. Avoid placing colors that do not mix well together to avoid muddy colors.
Once all of your colors are on the panel, grab your spray bottle. Holding the bottle 6-8″ from the surface of your card, start spraying. Stop spraying as soon as all of your powder looks like it's wet. It's really easy to overspray, so be very careful here! Too much water and you'll lose the beautiful textures you get when everything dries.
Allow to dry. Speed up the process if you'd like using a heat tool. Once it's fully dry, remove your tape, cut down your card and apply your lettering! Done!
Receive special offers on courses + products, a new design file every month plus instant access to the Resource Library!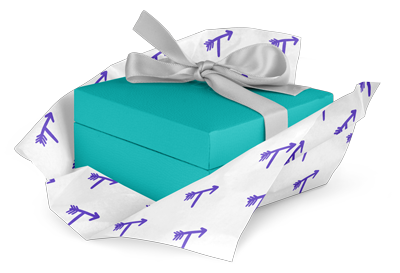 Pick up over 50 design + lettering files as our gift to you when you join the Tuesday Tribe for free!
Congrats!
Please check your email to confirm.