Have you ever dreamed of having the ability to animate your artwork and create beautiful animations with ease? Well, dreams are fast becoming reality as the Procreate Dreams animation app is revolutionizing how animators work. As a graphic artist, I can't help but brainstorm all the little doodles and lettering I'll soon be able to add life to. Here's a recap of today's presentation, along with my hot take as a graphic designer below. 🔥
Today, CEO and Co-Founder James Cuda, announced their all-new Procreate Dreams animation app. This new animation app opens up an entire world of possibilities for the animation industry and makes it easier than ever to bring their creative visions to life in animated form. With its user-friendly interface, advanced tools, and helpful tutorials, Procreate Dreams introduces the opportunity to hone a digital artist's skill set and break free from traditional animation techniques. Let's dive in! 
How the Procreate Dreams Animation App Began
Over the last 5 years, Procreate has been working hard on something new – an exciting new product that will complement the app and sit alongside it in the app store. It all started with a desire to design the best possible creative tools and explore new ideas and experiences to improve the lives of creatives. 
The Procreate team knew that the iPad, with its direct manipulation of pixels through the Apple Pencil, was the perfect tool for transforming, painting, and touch. As Procreate and its community grew, so did the feedback – both positive and critical – and the team worked tirelessly to improve the app. 
This dedication to their craft is evident in their mission statement, inspired by Disney: "We don't make software to make money. We make money to make more software." Animation is something that we all love to watch, but as CEO and Co-Founder James Cuda shared, it should be just as fun to create and share. 
So what if Procreate made it? An animation app for iPad that you never have to leave, with all the tools to animate that you can take anywhere? Pretty amazing, right?
Introducing, the Procreate Dreams animation app!
Say goodbye to expensive animation software and hello to their new app, Procreate Dreams! This innovative animation app is the perfect solution for artists and animators looking to create rich 2D animations, expressive videos, and breathtaking stories. With intuitive layer drawing and all your favorite Procreate brushes at your fingertips, Procreate Dreams makes it easy to bring your wildest dreams to life. Key frames let you set the start and end of your frames, while advanced features like transitions and effects make it easy to enhance your images with vibrant colors and eye-catching movement.
Let's dive into all the features that Procreate Dreams has to offer. 
Real-Time Engine 
Look no further than the power of a real-time engine. With its impressive graphical acceleration and reliance on the GPU, your animations and Procreate masterpieces will come to life in real-time. Say goodbye to RAM previews and hello to fast and fluid artwork that works with you, not against you.
Revolutionary Timeline
Starting with small gestures, you can now create full-fledged animations at lightning speed. Zoom in to see the other frames and use the quick pinch feature that's just like Procreate to get the details just right. For precise positioning, just double-tap to zoom in and see exactly where you need to make changes. Thanks to the bright and friendly playhead, scrubbing and selecting content on the timeline have never been easier. And with the key frame feature, navigating to where you want and selecting the action you want is an absolute breeze.
Performing
With just a tap of the record button in the bar, you can easily record any movement, transition, or effect that you tap on the screen. The best part is that anything you can keyframe, you can perform. It's a game-changer for animators and adds a level of interactivity that wasn't seen before.
Drawing & Painting
This feature allows you to use all of your favorite Procreate brushes while creating stunning animations right from your phone. The best part? The interface is still just as user-friendly as ever. Plus, you can take your drawings to the next level by utilizing the flipbook function. Simply drag down the timeline and focus on each frame and its individual details.
More Resolution! 
Procreate has heard our cries for more resolution loud and clear! They're taking things further than we could have imagined – now allowing document sizes up to one million by one million pixels! That's right, one meter by one meter! With this increase in resolution and layers, animators and artists alike will be able to unleash their creativity like never before. 
Audio & Video 
Enter Procreate and its Audio Engine. With the ability to add music and sound effects, you can seamlessly turn a single image into a vivid animation that truly captures your vision. What's more? The low latency of the Audio Engine means that you can interact with hundreds of audio tracks at once, bringing your creation to life in a way that will surprise and delight your audience. And with Procreate built for the future, you can be sure that your creativity will always be ahead of the curve. Plus, with the split, trim, and slide capabilities of Procreate's full video editing feature, you can easily manipulate multiple edits at once.
File Format of the Future
Procreate has created the file format of the future. Built specifically for animation, this new file format offers instant opening capabilities, so you don't have to wait to load documents before you dive into your work. And if you make a mistake, no worries, because the eternal history feature saves all undos directly to the file itself. You can roll back changes at any time! Plus, it's made for iCloud, which means you can easily store and access your files created on any device. The people have spoken, and Procreate has delivered.
Privacy
Many artists were worried about the possibility of Procreate following industry trends and collecting data on their work. However, Procreate has made it very clear where they stand: they believe in protecting the rights of artists. This means they do not engage in data harvesting, and they will never collect data on your work. As an animation artist, your privacy is important, and it's good to know that Procreate is on your side.
Procreate Dreams Animation App Release Date + Price
You'll soon be able to experience Procreate Dreams for yourself – the one-off purchase will be available on November 22, 2023, at just 19.99 in 18 languages!
A Graphic Designer's Take, AKA Teela Gets Spicy
All in all, the Procreate Dreams animation app experience is a game-changer. Everyone from beginners to professionals can create and share amazing animated stories today with its versatile feature set and intuitive user interface. It's a great way to enhance your own creative projects and bring your work to life. Now you can hand draw animations and motion graphics while enhancing them with music, video, and sound all in one app.
As a graphic designer and Procreate content creator, I'm excited to try out the app! I'm looking forward to playing around with the new interface and adding motion to small graphics, lettering and doodles. I'm already thinking about how those doodles-in-motion could then be added to YouTube videos, instagram reels + stories and promotional vids.
I realize this was an animation event, hence the animation announcement, but I can't help but feel a little frustrated as a daily Procreate user. If such a ground-breaking new app with new technology was developed for over 5 years, I would have loved if they squeezed in smart objects, layer styles, typing along a path, applying masks to groups – or just being able to rotate an element without edge degradation in Procreate. Or how about not destructively cropping artwork that moves off the canvas? If tech was developed to create a brand new file format and resolution that's 1M pixels by 1M pixels, surely this is possible. Don't get me wrong, I'm thrilled about this new app; I just hope these long awaited, much needed additions to Procreate for their OG audience don't get kicked even further back.
Receive special offers on courses + products, a new design file every month plus instant access to the Resource Library!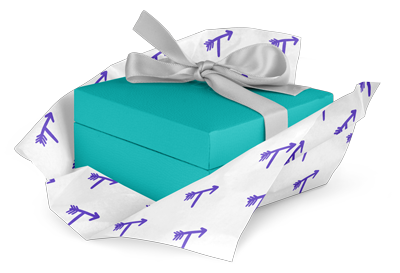 Pick up over 50 design + lettering files as our gift to you when you join the Tuesday Tribe for free!
Congrats!
Please check your email to confirm.