If you've been here for any length of time, then you know I  have a slight obsession with watercolor. Part of it is mixing beautiful color combinations together, and another is creating abstract and unique textures. Creating unique textures allows you to then use them in designs, producing an outcome no other person is capable of replicating – ever. And that makes everything even more special. As you might imagine, I've spent many hours experimenting with watercolors and this week I want to let you in on 3 simple tricks to create unique watercolor textures of your own. It doesn't matter which kind of watercolors you have on hand, either – these tricks will work with em all 😉
3 Simple Tricks for Unique Watercolor Textures
Mentioned in the video:
Final texture outcomes from the video:
with salt water
with bleach water
with seran wrap

Here's a quick summary of the 3 tricks mentioned in the video, along with measurements:
Trick #1: Salt water wash. Put 1/2 tsp of basic table salt into 1.5 cups of water. Mix thoroughly until fully dissolved. Place a wash on top of your watercolor paper and lightly paint your watercolor on top of the saturated paper. Check out the unique texture results!
#2: Five drops of bleach in your water cup. I'm using basic bleach found at any grocery store with about 1.5 cups of water in my water cup. Swirl it around until well mixed, then place a wash on top of your watercolor paper. Lightly spread watercolor on top while the surface is still saturated for some spidery-looking textures.
#3: Seran wrap press. Paint a watercolor texture as you normally would (regular water), but this time on top of seran wrap. When finished, place your watercolor paper, texture side down on top of the seran wrap and press firmly. Flip over to smooth any areas/spread the color more thoroughly. Remove the seran wrap in one swift motion. Check out those edges!
Get even more creative by applying trick #1 or #2 to the seran wrap for a bonus unique method!
Want to convert your textures to digital? I have a full class on that here 😉
If you try these out, I'd love to see them! Tag me on Instagram @everytuesday!
Receive special offers on courses + products, a new design file every month plus instant access to the Resource Library!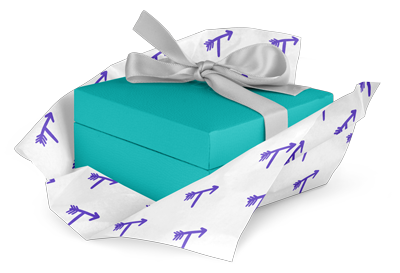 Pick up over 50 design + lettering files as our gift to you when you join the Tuesday Tribe for free!
Congrats!
Please check your email to confirm.