Chalk marker and traditional chalk lettering have been popular for a while now and they don't seem to be letting up any time soon! While I love both, there's soooo much less mess with chalk markers, so it makes them a little quicker and easier to experiment with. I had a thought the other week about using a wet paintbrush with my chalk markers to simulate depth. That idea ran into creating a paint streak effect, which led me to experimenting with fine line highlights and shadows. As I came out of that rabbit hole, I was so excited all of my experiments actually came out the way I had hoped, or better! This week, I'm sharing exactly what I did (including other effects), so read on for 10 chalk marker effects anyone can do!
Pin it for later!
10 Chalk Marker Effects Anyone Can Do
Mentioned in this video:
I also mentioned a few free cheat sheets! Grab the highlight/shadow cheat sheet here! (the font on this cheat sheet is Miss Magnolia)
Highlight + Shadow Cheat Sheet
highlight and shadow placement on lettering
File type:

pdf

Size:

170kb

Minimum software version:

n/a
And here's the 3D block letters cheat sheet: (the font on this cheat sheet is Eveleth clean regular)
3D Block Letters Cheat Sheet
outlines + shading
File type:

pdf

Size:

335kb

Minimum software version:

n/a

Here's a full list of the 10 chalk marker effects anyone can do:
1. Block Letters
Draw your base lettering, then add a line of weight on each side of that base lettering for consistent block letters.
2. Block Letter Outlines
Add an outline around each block letter in a different color than your block letters (white is shown).
3. 3D Outline
Make your block letters stand out even more by making them 3D! Refer to the cheat sheet above for how to create your 3D outlines.
4. 3D Shading
Shade in your outline with at least 2 different colors to simulate depth even more. Refer to the 3D cheat sheet for color placement.
5. Ombre
Grab a color that will mix well with your base color (yellow on top of pink is shown). Pump out some color in an open area of your chalkboard. Using a paintbrush, pick up that new color and begin painting on top of the base color, thicker at the top, then mixing with the base color as you move down to create the ombre.
6. Inline
Recreate your base lettering on top of your block lettering (single line letters), or use dots (as shown).
7. Script Depth
Using your paintbrush with a little bit of water, pull chalk away from areas that are being overlapped throughout your script word. These open areas where the black peeks through will give a 3D look to your script lettering.
8. Fine Highlights
Reference the highlight cheat sheet above and paint thin highlights that hug the sides of your letters. Once again, pump out some chalk and use your paintbrush to paint them in.
9. Floating Shadows
Reference the shadow cheat sheet above and paint thin shadows a consistent space from the edge of the letters. Use your paintbrush to paint these so they're nice and thin.
10. Paint Streaks
Pump out 2 similar colors as your base script lettering. Use your paintbrush and the brightest of the two colors to randomly paint chalk paint streaks throughout the word. Next, grab your second color and repeat the same process for a painterly look.
This post contains affiliate links. This means I may make a commission at no additional cost to you if you choose to purchase the products listed. I only promote products I've personally used, trust and believe in. Thank you in advance for supporting the free content on Every Tuesday!
Receive special offers on courses + products, a new design file every month plus instant access to the Resource Library!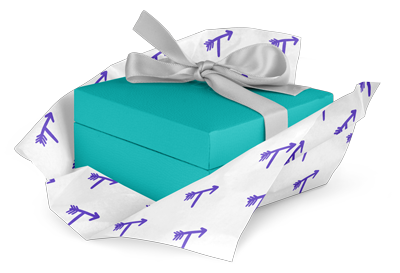 Pick up over 50 design + lettering files as our gift to you when you join the Tuesday Tribe for free!
Congrats!
Please check your email to confirm.