There's no doubt you've encountered it before: typography with a watercolor texture built in. A while back, I shared how to replicate this cool effect in Photoshop. Today, I want to share how easy it is to create watercolor typography in Illustrator using 3 different methods. If you saw last week's tutorial, then you've already gotten a peek at one of them. 😉 But! If you don't have a seamless watercolor pattern on hand, it's still cake to create the same effect. I'll even help you out by giving you a free texture from Watercolor Texture Kit Vol. 3 so you can follow along and start experimenting asap! Read on for everything you need to know to get started!
Grab your free bonus watercolor texture here!
This texture is a transparent png file (texture #8 from the kit), just like the ones seen in the video. 😉
How to Create Watercolor Typography in Illustrator
Mentioned in this tutorial:
– font: Tuesday Script
– textures: Watercolor Texture Kit Vol.3 (Click here for Vol.2 // click here for Vol.1)
– vector elements: 100+ Vector Leaves and Flourishes
– Skillshare class on textures: Watercolor Textures for Graphic Design
– Last week's tutorial: How to Convert a Photoshop Pattern into an Illustrator Pattern

The 3 methods for creating watercolor typography in Illustrator
1. Clipping Masks (single shapes or letters, or text typed together)
2. Pattern Swatches (can be applied to any element or typography, no matter how many)
3. Compound Paths (Use as a substitute for swatches; allows you to use one texture across multiple elements and typography. Text becomes uneditable.)
Whenever you create watercolor typography in Illustrator, keep these in mind:
Only a clipping mask is required if your text is created together.
If text isn't typed out together, you'll need to expand it, unite it, and create a compound path before applying your clipping mask. Your text will be uneditable after expanding it, so if you need to keep it editable, either save a 'raw' file before expanding, keep all of your text typed out together, or use a pattern swatch.
Compound paths allow Illustrator to consider multiple elements 'one' before a mask is applied. This will keep your texture spread across all elements instead of only one. Simply grouping your elements together is not enough.
To release a clipping mask, select your typography, right click > release clipping mask
Remember! You do not need to vectorize your watercolor texture for this to work! Vectorizing a complex texture creates a ridiculous amount of anchor points, which makes file sizes big very fast. Check your watercolor texture size before using it to ensure the rasterized version is large enough. All textures shown in the video (and included in all of my watercolor kits) are at least 2000px long, which covers most common size needs. If you absolutely have to vectorize your texture, follow the technique in this tutorial to create a great outcome with as few points as possible. You'll need to convert it into a compound path (cmnd + 8 or ctrl + 8) before you can mask it. If you have an older computer, avoid vectorizing watercolors – the process is demanding on your processor and will cause Illustrator to crash if it isn't powerful enough.
Receive special offers on courses + products, a new design file every month plus instant access to the Resource Library!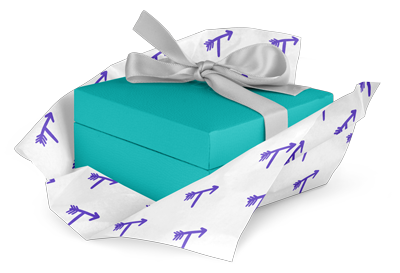 Pick up over 50 design + lettering files as our gift to you when you join the Tuesday Tribe for free!
Congrats!
Please check your email to confirm.