A few months ago, I shared how to create a similar effect as this in Photoshop, and I was asked how to also do it in Procreate, so here we are! This week, I'm sharing how to create shadow depth typography using Procreate on an iPad. At first glance, you may think this is just a simple drop shadow, but this drop shadow is much larger and darker than what you can get by implementing it traditionally. It also fully connects to the word it's attached to, while also extending further than you can get by just sliding a copy of your lettering and blurring it. I also share how to group layers, so you can move more than one item at a time, but still edit layers independently of one another. I promise it's worth the 5 minutes this week! Read on to see it all 😉
Pin it for later!
iPad Lettering: Create Shadow Depth Typography in Procreate
Mentioned in the video:
Colors (HEX):
Dark blue: #182230
Light blue: #49B8A8
Mint green: #85EDB6
Looking for more Procreate fun? Check out these tutorials or pick up one of my procreate texture kits (metallic and watercolor)!

Here's a quick written summary of what we did:
Set a dark colored background.
Create your (background) lettering on a new layer

or use

typeable text

for your message.

Create a layer above your background lettering and color it lighter than your background lettering. Have it sit – almost uncomfortably – on the top of your back lettering.
Create a copy or your foreground lettering colored the same as your dark colored background. Offset it and blur it. Duplicate it 2 more times, merge all copies together and blur once more.
Select your top lettering and slide your shadow layer to the right to lock it, then group it by hitting the icon in the top right of your layers palette. This groups your layers.
With the cursor selected, you can now move your top lettering with the shadow attached to it around, rotate, scale, etc.
Done!
Receive special offers on courses + products, a new design file every month plus instant access to the Resource Library!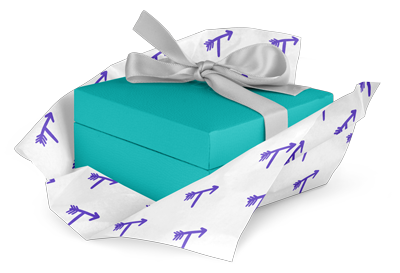 Pick up over 50 design + lettering files as our gift to you when you join the Tuesday Tribe for free!
Congrats!
Please check your email to confirm.