Last year, I bought myself a big pack of Coliro Colors FineTec metallic watercolors for my birthday. I had experimented with their gold collection earlier and couldn't wait to have more colors to play with. The rest of the year, I obsessed with using them on new lettering pieces, custom greeting cards for friends and family – anything I could think of. The way they glimmer in the sunlight is so beautiful, I was constantly looking for ways to create other shiny outcomes 🙂 I broke them out again the other day and realized I never shared my blending methods in a tutorial, so it was time for that to change! These watercolors get thick + dry pretty fast, so blending can be a little more complicated than traditional watercolors. In this week's tutorial, I walk you through 3 blending effects using metallic watercolors with all of my favorite, long-tested tricks 😉 Read below for them all!
Pin it for later!
3 Blending Effects using Metallic Watercolors
Mentioned in this tutorial:
Here are the outcomes from the 3 blending effects we created using metallic watercolors:
1. Rainbow/Color Blocking
2. Stackable/Vertical Ombré
3. Shadow/Depth

Here's what we did to create 3 blending effects using metallic watercolors in written form:
1. Rainbow/Color Blocking
Create your base lettering using a diluted version of white or silver. Allow to fully dry.
Add in each color, one at a time in small to medium 'blocks' on top of your base lettering. Allow the color to fully dry before moving on to the next color.
Repeat until finished. Done!
2. Stackable/Vertical Ombré
Create your (stacked) base lettering using a diluted version of white or silver. Allow to fully dry.
For an ombré/subtle color blend, choose colors that are similar to each other. Start with your first color, painting half way down all the letters in the top row.
While the previous color is still wet, paint the bottom half of those colors using the next color. Dot or dab into the previous color for a smooth transition.
Use the second color for the top half of the second row of letters. Repeat for as many rows as needed. Done!
3. Shadow/Depth
Create your lettering with the color you'd like – brighter colors work best! Make sure you apply the watercolor thicker than usual, so when you integrate shadows, the contrast really stands out.
Once dry, with the clean/almost dry tip of your waterbrush, begin lifting up color from your shadow areas. Wipe whatever paint you pick up onto a paper towel and continue through the rest of your word until you have shadows in all of your letters. Allow to dry.
Repeat lifting for more contrast if desired after the initial first pass. Done!
Receive special offers on courses + products, a new design file every month plus instant access to the Resource Library!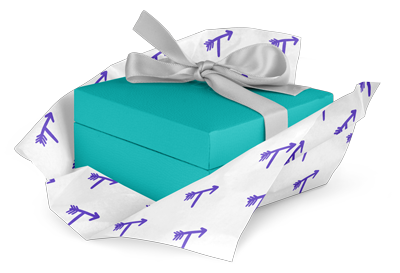 Pick up over 50 design + lettering files as our gift to you when you join the Tuesday Tribe for free!
Congrats!
Please check your email to confirm.