Happy Tuesday, friends! After our carrot veggie doodle last week, it was only right to have a fruit illustration this week! I've always thought lemons were such a pretty illustration subject, but I hadn't painted them before! I don't know what took me so long, because I painted this two ways when I was preparing to teach it and loved each time (here's my spray painted version that didn't make the cut, basically the same instructions but with different brushes). So today I give you a watercolor lemon tut! Just a quick head's up this is one of my most advanced Procreate tutorials to date, so if you're a beginner or haven't gone through my free Procreate for Beginners course yet, the pace may feel too fast.
Pin it for later!
Paint a Watercolor Lemon in Procreate
Mentioned in this video:

Here's a written overview of how to paint a watercolor lemon in Procreate:
Grab your source image from Unsplash.com, search lemon, and download the image you would like. Or grab it from the link above! Insert the photo into Procreate.
Create an outline of the lemon. Fill the lemon with texture by selecting the layer, turn off the image, create a new layer, and paint in the lemon with the heavy paint round brush. Duplicate the layer to make the lemon denser.
Paint in the stem and leaf using the same technique as above to paint in the texture.
Start adding in shadows by grabbing your dense wash brush and paint in the shadows. Lock it in to the lemon by applying a clipping mask. Grab the soft wash brush as a smudge brush to soften up the hard lines.
Add in highlights by grabbing the light yellow color and dense wash brush. Change the blend mode to overlay, paint in the highlights and use the smudge brush to get rid of the hard lines.
Follow the same steps for the stem and leaf by adding in shadows and highlights.
Add in a shadow behind the lemon by painting right along the edge, toggling between the dense wash and soft wash brush.
Add in a watercolor paper texture to finish it off!
Done!
Receive special offers on courses + products, a new design file every month plus instant access to the Resource Library!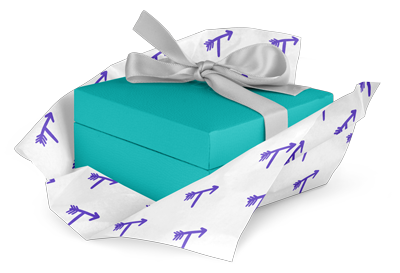 Pick up over 50 design + lettering files as our gift to you when you join the Tuesday Tribe for free!
Congrats!
Please check your email to confirm.