Last fall, I shared a video on 3 simple tricks for unique watercolor textures. To my surprise, it quickly became my most viewed video of all time (almost 1 million views as I type this!). Since integrating textures into my work is one of my favorite parts of design, I wanted to share another quick tip texture video. This week, we'll be going over 3 simple tricks for unique acrylic textures. I first started creating acrylic textures when I made this paint streak typography tutorial (over 2 years ago!). After that, I posted this video on Instagram of another method, and most recently this one.  I love that I can keep things traditional if I'd like, but also that I can create digital work from these textures that still feels authentic, hand made and special 🙂 So, let's get these going!
Pin it for later!
3 Simple Tricks for Unique Acrylic Textures
Mentioned in the video:
Final texture outcomes from the video:
the "swirl + lift"
the "drop + pull"
…and the "smudge"

Here's a quick summary of the 3 tricks mentioned in the video:
Trick #1: Place a few dots of different colors onto your paper plate or mixing surface. Swirl the colors gently (be careful not to over-swirl!) with a small brush. Grab a wide (2-4 inch) painter's brush and lift up the swirled colors. In one motion, move the large paintbrush across your paper's surface to reveal a multi-colored paint streak.
#2: Pace a few drops on your final surface – some touching others, some spaced apart. Cut a strip of cardboard and place firmly on the surface. Press and glide the cardboard strip across all paint drops so they mix and streak together as it's pulled.
#3: Place drops of paint randomly across your surface, some colors only in one area, others spread throughout. Cut a strip of cardboard roughly one inch long by .25″-.5″ wide. Press firmly on the surface and pull in short bursts until all drops are streaked by themselves or with others.
Done!
Receive special offers on courses + products, a new design file every month plus instant access to the Resource Library!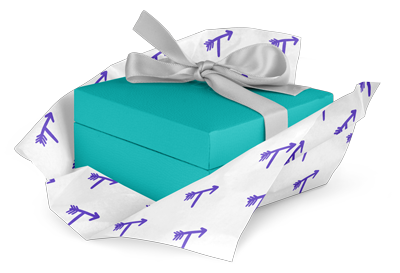 Pick up over 50 design + lettering files as our gift to you when you join the Tuesday Tribe for free!
Congrats!
Please check your email to confirm.