I'm so excited to give you a peek behind the scenes today! Spence and I recently remodeled my studio space, so today we're giving you a before + after studio tour! This new studio space now has a dedicated area for recordings/hand lettering/craft work and one for computer/design work. Having both spaces completely separate has already made a difference in my workflow. Read on for the full tour!
Pin it for later!
Before + After: Studio Tour
Links to items seen in this video:
Recording Equipment:
Why we changed our setup
I was getting increasingly frustrated every time I recorded a tutorial of my iPad, hand lettering or watercolors. Basically anything where you'd see my hands creating or working on something. The lighting was extremely inconsistent, I would experience weird reflections if I tried recording at night and the space I had was tight. I was also recording everything with my iPhone, which has a better camera than my old webcam that I used to use, so the longer videos would eat up all the space quickly when I recorded in high def. Something had to change.
The more Spence and I talked about how to solve the issue, the more we kept coming back to – our space is so limited, how do we get me more space? Outside of our livingroom, our master bedroom is the biggest room in the house.
Spence casually suggested, "What if our bedroom became your studio?"
"Really? Could we do that?"
What we did
Spence immediately hopped onto his computer while I measured the spaces out to see if we could put our bed in a smaller area of our bedroom that I had been using for my studio. It would fit! Next, we got to measuring out all of our furniture, then rearranging it on the computer to figure out the perfect layout. We must have done 15 layouts by the time we found *the one*. We put a date on the calendar for when we'd start the change and off we went as soon as we put Tuesday down to sleep each night.
I'm in love with the new space! It feels light and bright and I have enough space to move around, get comfortable and experiment. Having two separate desks has been one of my favorite changes; When I sit at the AnthroDesk, I'm 100% in craft + hand lettering mode. When I'm at my computer, it's all design work + video editing. More than anything, I love just being in the space, which helps me to get more creative and be more efficient with everything I produce.
I hope you enjoyed the tour! I'm happy to answer any questions you might have about it! Would love to hear what you think 🙂
xo
Receive special offers on courses + products, a new design file every month plus instant access to the Resource Library!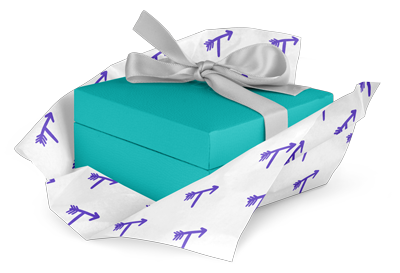 Pick up over 50 design + lettering files as our gift to you when you join the Tuesday Tribe for free!
Congrats!
Please check your email to confirm.