We have ALL been there. Days, weeks, or projects where there's just nothing to grip onto upstairs. You scour the internet for inspiration, create mind maps and doodle out ideas, but find them all predictable; maybe even a little cliché. You start to question if creativity will ever locate you again, or worse – whether you ever had it to begin with. Oh, and this helpless feeling of creative block always happens at *the* worst possible time. Because it just wouldn't make sense otherwise. Obviously.
So what can you do? Read on for 5 tips Spence and I have relied on throughout our creative careers to lift ourselves out of that inevitable rut.
Pin it for later!
5 Tips for Breaking Through Creative Block
Tip 1: Change your surroundings *and* your mindset
This is what many of my college professors told us when we professed our creative block frustrations: "Take a walk." Sure, that'll fix everything. Except it never did anything but waste precious project time. It wasn't until years after I graduated that I learned how to truly do this right.
Not only do you need to remove yourself from your current surroundings, you have to remove those frustrated emotions and your mindset, too. So change your surroundings, but don't stop there: you must also do something in that new surrounding. Yes, you could take a walk, but a step further could be playing a game, grabbing a coffee, picking up groceries, etc. By doing something with more intention, you're forcing your mind to spend time on and think about something besides the hopeless feelings you were consumed with earlier. The point of this is to change everything about the current situation that has left you stuck (surroundings, activity *and* mindset).
Tip 2: Put yourself 'in' it/find a way to get excited about the work
Some projects are difficult to get excited about no matter how hard you try. At my last job, I was tasked with creating packaging for a new line of catheters our medical client was producing. Catheters! I hardly knew what they were, didn't know anyone who used them and couldn't relate to them in any way. I felt really stuck. Worst of all, when you're not excited about your work, great work can not be created. I had to find a way to allow myself to enjoy the project, despite the fact I was looking at catheters all day.
In a meeting with the client, I learned that users wanted packaging to look like anything but catheter packaging. If someone saw them holding that small package, the goal was to have it mistaken for a lipstick container or a regular personal item instead. I asked the client if they were open to patterns on the packaging (something I loved to experiment with). They were excited about that idea, which got my creative wheels finally turning. Although the product wasn't my favorite, I could still have fun with new patterns, knowing I was also making those who held them more comfortable.
Tip 3: Create opposite artwork
If you aren't able to change your surroundings (i.e. office/school life), or if you feel like you have to do something, this tip has been very reliable for me. Working on a digital layout design? Grab the watercolors, colored pencils or any pen you have lying around and draw or doodle something completely unrelated. Working on something that's fine art? Find an Illustrator or Photoshop tutorial to create on the computer. By not only shifting the topic, but also the medium you're working with, you're forcing your mind to still think creatively, but differently. While working on opposite artwork, when you return to your original project, you'll look at your process in a new way with some new ideas to experiment with, too.

Tip 4: Talk it out
Sometimes, you just need to lay out your creative block struggle to someone else. Doesn't even matter if it's a creative person you talk to. I never used to do this, but now I do it alllll the time with Spence. Since he shifted the past 3 years from a graphic designer to a developer, he's in code world all day. When I bring a creative struggle his way, he *always* sees it differently than I do, which is perfect. He asks me questions that I never would have thought of and they usually trigger some new path I can pursue. Also, saying it all out loud helps you to hear how you're actually looking at things. This can be surprisingly different than how you sort things out when you keep it all locked up inside.

Tip 5: Add in side passions
This one kind of goes hand in hand with getting excited about the work (tip 2 above). I remember a few studio projects where just coming up with an idea to start with was difficult.
We had to rebrand a small city that didn't have many distinctive qualities, aside from being diverse. As a designer, you hate to lump everyone into a general theme. This had to be special, but still relatable to those who lived and worked there. Because I love watercolor (and the city was known for a historical water source), I started using it in many of my initial designs. Our creative director liked that idea, so before I knew it, we were all using watercolor while I worked on some brush lettering – seeing how far I could push my side passions into the work 😉 Integrating personal creative interests are a great starting point if you're not sure how to begin.
Do you have any go-to solves when you experience creative block? What are your favorite tips? I'd love to hear them in the comments below!
Receive special offers on courses + products, a new design file every month plus instant access to the Resource Library!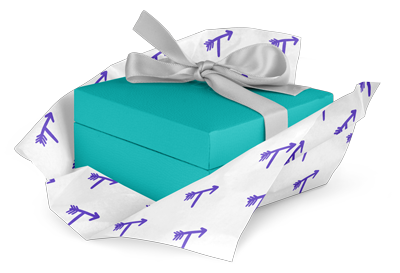 Pick up over 50 design + lettering files as our gift to you when you join the Tuesday Tribe for free!
Congrats!
Please check your email to confirm.