In Full Time Graphic Design, we go over how a self promotion (a small sendable/gift or leave behind to briefly show the quality and style of your work) can take you far with influencing a potential employer to set up an interview or even get you hired. When I started my very first job out of college, on my very first day of work, the COO stopped by my desk, complimented my work and said he still had the promo I handed them at the job fair I attended months earlier (you can see the self promo I made in this video). So yea, definitely a powerful tool if you can fit it into your budget!
If creating a self promo is something you're interested in, this week I wanted to share 5 unique and inspiring self promos that all work in different ways to get a designer's style, skills and personality across quickly to the right person. Along with each piece, I've also included a tip to help your own self promos along. See them all below and click on any image to be brought to its source!

5 Self Promotion Tips + Inspiration
1. Don't just say it. Show it.
This first project was actually created by a studio, but the concept is great, so let's look at how a student or someone just entering the design field could rif on it. What's unique about this, is that all the text and all the imagery are original to the studio, so taking a closer look at all of the details, copywriting and illustrations becomes very impressive. A self promo is a great opportunity to show off your best skills in a real execution rather than just listing them all out. When a potential employer sees it in this way, they can begin visualizing the quality of work you'll be able to bring into their studio immediately.
2. You do You
Outside of a strong portfolio, a new hire has to fit into the culture of a company for it to be the right fit. As a designer looking to be hired, it's important to let people know who you are, what you find funny, or things you do in your free time. Show as much of your personality as you can! Looking at this promo, you'd understand the designer loves coffee and can execute a project beautifully using simple materials. The designer must be pretty generous, too, because who would ever throw away that sweet coffee mug?! Bonus points for offering an employer something they feel obligated to keep on their desk 😉
3. Joy
Making a project that you enjoy creating is not only important for you as a designer, but it will pay off in a huge way when someone else sees it. As many of you know, I'm obsessed with typography, so if I were to create a promo today, it would naturally include typography. This project cracked me up because it literally shows type faces! Each face displays the differences from one font to another through manipulating someone's face – very clever. A simple idea to fundamentally show you know your stuff about type, and easy to reproduce by reprinting out each of the 4 sheets. Finally packaging it up can be done on any budget, so just as long as it reaches the right person, they're likely to joyfully recommend you stop in for an interview.
4. User Experience
Making sure that your project makes someone feel special can seem impossible at first, but when you really think about it, we all have things in common and chances are, something I like, you may like as well. When creating a self promo, be sure the recipient can easily use the item in some way, and include a personal touch to it. This can be done in several ways, from making the project by hand, to doing a little research about the studio – or even the actual person you are sending it to – and tailoring the promo to them. As I'm always sketching, I would easily find a sketch book self promo something I would use. The example above stands out especially well compared to many other designer sketch books you see, too (usually moleskine or field notes with plain fronts and backs).

5. Design with Confidence
There's no question that the better you can sell yourself, the easier it will be to find a job. This is the one time it's ok to brag about your accomplishments, so do it, but do it tastefully. If you don't have confidence in yourself and to voice that confidence, who else will? This promo includes small examples/teasers of work, and – if you're familiar with a pantone fandex – is an extra nod to being familiar with print production.
For more tips on getting noticed and landing a design job, check out FullTimeGraphicDesign.com!
Receive special offers on courses + products, a new design file every month plus instant access to the Resource Library!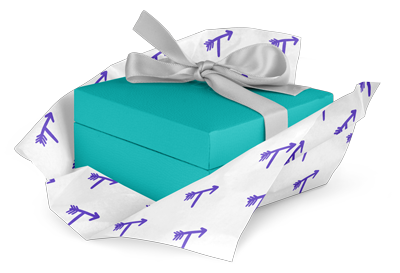 Pick up over 50 design + lettering files as our gift to you when you join the Tuesday Tribe for free!
Congrats!
Please check your email to confirm.