2016 was a really intense work year for both Spence and I. I sat in front of my computer more than I didn't, but it led to a lot of self growth which I'm immensely thankful for. While I hope (and plan!) to pull myself away from my desk more this year, I wanted to share the ways I hit my design + lettering goals in 2016 and steps I'll take in 2017. I hope this can be a motivator if you're just digging into lettering or graphic design, but you aren't quite sure where to begin.
Pin it for later!
Hitting your Design + Lettering Goals in 2017
My goals for 2016
When 2016 began, I had 2 goals: create more than one font and improve the production quality for my online courses. In order to a create fonts, I had to improve and experiment with lettering styles, on top of learning the font making software. In order to improve production on my online courses, I dug more deeply into Screenflow (my recording + editing software) to discover ways to make class taking experiences better.
Improving my lettering styles meant experimenting with new brushes, tools, writing utensils, etc.
Learning the font making software meant learning font making processes, the programming side of font making and understanding how to utilize open type features best to make the fonts fun + versatile.
Improving online courses with Screenflow meant learning better ways to annotate videos, creating timelapses that communicated but didn't move too fast or too slow, integrating music more often and experimenting with different angles.
What am I getting at
By pulling apart my goals, even as simple as they initially seemed, I started creating my road map. It may seem like a no brainer to do this, but if this step – of creating manageable, achievable 'mini-steps' isn't taken, the big ones become overwhelming after a few months. And then the big ones only *kind of* happen, if they do at all.
If you're just planning out your creative goals for this year, here's my recommendation for tackling + achieving them best:
1. Choose your goal(s)
If you could improve or learn just one creative skill this year, what would it be? It's ok if it's just 1! Something like 'learning Illustrator better' obviously comes with a ton of mini goals/steps, so that in itself is a list! Maybe it's 'improve my script lettering' or 'finally make my handwriting into a font'. I had 2 goals last year and it still felt overwhelming at times. Choosing one creates immense focus, so if you're just getting started, be kind to yourself, and as you work through the year, see if adding another goal feels right. If not, keep working towards that one. It's pretty amazing everything else you'll accomplish without even realizing it in the process 🙂
2. Break it down
Here's where you create your mini steps or mini goals. All of the little pieces that will lead to your goal(s). I actually recommend not putting a time frame on these, as long as you commit to them every week. Figure out which you need to start tackling first and get right into the process. Taking the pressure off of getting one step checked by a certain time creates the freedom to experiment. Creativity grows the strongest and quickest in the experiment step, so it's important to give it time. Plus, this is your goal and you better get to have fun accomplishing it 😉
3. Permission to Play
Give yourself the right to follow the creative rabbit hole wherever it leads. Getting lost in the experimentation process created some of my favorite, most unexpected artwork of the entire year. This is where you figure out what you enjoy most, where your style starts coming forward, and where you learn about yourself and the artwork you make.
4. Sharing
This is probably the most frightening part (it totally was for me), but I can't stress how important it is. Creatives are introverts by nature, so it's basically in our DNA not to put our work in front of others, let alone the internet. Here is what happens when you share your artwork:
You begin to get over the fear of putting your artwork in front of others. Becoming comfortable just with this idea will make putting future artwork (if you wish, of course) into the world for sale, or even to get freelance clients or a full time position.
Making this a consistent habit distances yourself a bit from the artwork. Feeling less sensitive/attached to your work creates more room for growth instead of pain if others offer criticism, questions or suggestions.
You get to track your progress visually. Especially on social media like Instagram, you can look back a year from now at how far you've come. That's a pretty great thing to have. (For me, this was last January's desktop wallpaper compared to this year's)
You get to connect with others who are passionate about the same things. I don't know about you, but my family + and many of my close friends are not into art the same ways that I am. Being able to talk to so many of you each week about design + lettering is one of my favorite parts about sharing my work.
Recapping 2016
Looking back, just those 2 goals were a lot to handle. In complete honesty, they broke me a few times. The mini steps within them both were more than I expected and I should have taken more time last January to see what I was getting myself into. Trying to do too many things at once isn't healthy and it was a hard lesson to learn, but an important one for me as I move into this year.
On the bright side, I got to play with a ton of lettering supplies (which was glorious), and I'm really proud of how far my lettering and video editing skills have come in a year. It's kind of crazy to see the list below of fonts and courses that didn't exist a year ago. Here's my 2016 recap of where those 2 little-ish (deceptively gigantic) goals led:
Fonts
Tuesday Script
January marks a full year since I released my first font, Tuesday Script. Tuesday went on to become the 47th most popular item on Creative Market for all of 2016 and was even used for Kohl's 2016 holiday marketing.
Hawthorne Script
I created Hawthorne as a more sophisticated, but still sweet natured script. It was named after the road I grew up on and was my first font to include an entire set of alternate lowercase characters 🙂
Espresso Roast
My first font trio! I loved creating a script and all caps style that paired so well together. My goal was to offer a font that was a one stop solution for any fun, dynamic layout. I loved creating the included symbols font, perfect for making dividers or adding fun elements to finish off compositions. Here's the behind the scenes post I wrote on how it came to be 🙂
Courses
Digital foil textures are super popular these days and in this class, I shared how easy it is to make them from scratch in Photoshop!
If you've ever wanted to integrate watercolor textures into your designs, this class shows you how! We create beautiful, real textures together, go over scan settings and enhance color using Photoshop. We even cut out the background so you can place your textures on any backgrounds you choose.
***If you've taken this class or are interested, Skillshare is hosting Turn Physical Art into Digital Textures: A 30 Day Experience for Graphic Designers workshop (which starts today!) that this class is a part of. You'll also get the chance to win some pretty cool prizes! (Use this link to sign up for Skillshare to receive 3 premium months for $0.99 if you haven't tried it before!)***
Integrating varied baselines within your lettering creates dynamic, unique artwork quickly. In this class I walk you through the logic of where the best places to add bounce to your letterforms are, along with some helpful resource guides so you'll never wonder again.
When Apple made the iPad Pro + Apple Pencil available, it completely changed the lettering game. In this course, I walk you though 3 popular apps: Adobe Sketch, Adobe Draw and place emphasis on Procreate, the most well known iPad app used for lettering. We create 5 different projects together, so by the end of the course you have a familiarity with Procreate and how to add creativity to your lettering when you begin on the iPad.
p.s. I'll be releasing a more advanced Procreate course in the coming months!
If you'd like to learn how to put your artwork on real items using Photoshop (without actually getting them made), this class is for you! If you're selling patterns or fonts, for example, mockups help users visualize how they might be able to use your product. Maybe you're a designer and you created a logo for a client. Putting the logo on tshirts, mugs, pencils, etc. helps the client to imagine their logo in future use.
Once you get comfortable with your lettering style, creating layouts with multiple words and meanings can be challenging. Referencing my graphic design typographic background, in this class, we apply similar design layout strategies to create compelling, emotive hand lettered layouts.
I wanted to introduce some longer-form classes to Every-Tuesday and Brush Lettering with Watercolor was the first last year! Packed with in-depth style establishing tips, brush holding options, and different watercolor blending techniques, this course is meant for any letterer who loves color. We use both a waterbrush and traditional paintbrush throughout to create stunning and vibrant brush lettered artwork.
My most recent course, Fantastic Flourishes, dives into creating confident swoops, loops, swashes and curls, all while integrating them seamlessly into hand lettering. The course is packed with bonuses, including uppercase and lowercase alphabet practice sheets, so you can add flourishes directly into your letterforms, too!
Looking Ahead
Phew! This turned into quite the mega-post! This year, my biggest goal is to continue offering courses that will provide the most value to you, to the best of my ability. My next course on how to create a script font is already in progress and it will be followed by the new lettering with Procreate course. Are there any courses you'd like to see from me this year?
If you made it all the way to the bottom of this post, I'm sending you a high five!
What is your biggest creative goal this year? Leave it in the comments so I can cheer you on! 🎉
Receive special offers on courses + products, a new design file every month plus instant access to the Resource Library!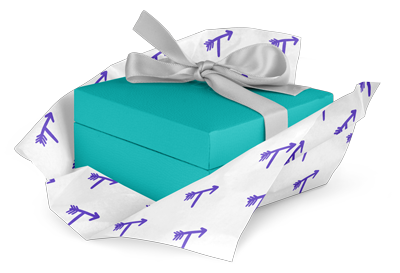 Pick up over 50 design + lettering files as our gift to you when you join the Tuesday Tribe for free!
Congrats!
Please check your email to confirm.