Happy Tuesday! We had a few 70*F weather days in February here, so springtime has been on my mind a lot lately. In the spirit of the upcoming season (for those of us in the Northern hemisphere), I've got a spring themed sales tag this week for you! You can use this for any kind of promo throughout the year, or change up the messaging to create a fun gift tag for any personal occasion, too!
Pin it for later!
Create a Floral Sales Tag in Procreate
Mentioned in this video:

Here's a written overview of how to create a floral sales tag in Procreate:
Draw out the tag and fill with color. Draw in a dashed line at the top of the tag for some stitching. Apply a clipping mask to keep the stitching inside the tag.
Grab the round liner brush and add in florals and branches behind the sales tag. Let some of the florals and foliage get cut off the side of the canvas to look like they are coming off the edge. Duplicate the layer if it is feeling too subtle.
Apply a clipping mask to the tag, grab your jittery ink brush and then write out your lettering to the tag.
Add a little depth to your tag by selecting your main tag layer, create a new layer below it and fill the layer. Add a shadow and warp the corners to create a shadow effect underneath your tag. Apply a gaussian blur to the shadow and change the blend more to multiply. Reduce the opacity to 40%.
Apply a paper texture to the canvas by creating a new layer underneath your stitching layer. Change your color to black, grab the medium tooth paper texture and paint over the canvas in one stroke.
Done!
Receive special offers on courses + products, a new design file every month plus instant access to the Resource Library!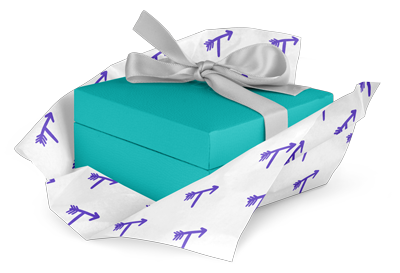 Pick up over 50 design + lettering files as our gift to you when you join the Tuesday Tribe for free!
Congrats!
Please check your email to confirm.