This week, we're drawing a wrapped flower bouquet in Procreate! We're adding a little bit of complexity to things by creating several floral elements and working in a very organized fashion with layers and groups. We're also adding in a few shadow elements to add dimension to the whole piece. We'll finish it off with a sweet message – hand lettered or with editable text.
Pin it for later!
Draw a Wrapped Flower Bouquet in Procreate
Mentioned in this video:

Here's a written overview of how to draw a wrapped flower bouquet in Procreate:
Start by sketching out the wrapping for your bouquet in a kite shape. Sketch in your stems at the bottom and flowers out from the top (daisies, baby breath & foliage) varying in size.
On top of the sketch layer, draw your outline of the back wrapping. Do the same steps but now for your front wrapping in a different color. Between the front and back wrapping, create a layer with your lightest color for the middle wrapping.
Begin drawing your flowers being sure to create a new layer for each part. This will help keep you organized for later steps. Do the same for the stems, baby's breath and front/background foliage.
Add depth by selecting your front foliage layer, add a new layer right below it and fill the layer with your darkest color. Apply a gaussian blur to the layer to create a shadow. Change the blend mode to multiply and reduce the opacity.
Add dimension to the wrapping by creating a shadow on the inside edges of the wrapping layer. Create a new layer above your wrapping layer. Increase your brush size and draw a line along the wrapping layer edge. Apply a gaussian blur, change the blend mode to multiply and then drag the layer underneath the wrapping. Repeat these steps with the other inside edges of your wrapping.
Draw in your stems using different weights of your brush to vary up the depth.
Finally, add your lettering message using the Mono Marker brush (or editable text).
Done!
Receive special offers on courses + products, a new design file every month plus instant access to the Resource Library!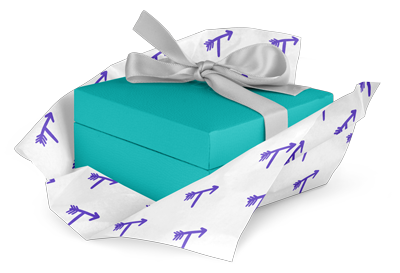 Pick up over 50 design + lettering files as our gift to you when you join the Tuesday Tribe for free!
Congrats!
Please check your email to confirm.