It's Tuesday! This week, I'm kicking off a 3 part Valentine's Day tutorial series! We'll start simple and then progressively get more complex over the next two weeks. In today's beginner friendly tutorial, we'll draw a symmetrical daisy heart with a distorted shadow to make it more realistic, then pack in lots of daisies around it. I'm also sharing a really handy selection/move trick, too 😉 We finish it off with some hand lettering locked into our heart with a clipping mask to send any message you'd like.
Pin it for later!
Draw a Daisy Heart in Procreate
Mentioned in this video:

Here's a written overview of how to draw a daisy heart in Procreate:
Draw a heart using the symmetry settings and fill with color.
Apply a shadow by selecting your heart, apply a layer above it and fill the layer with your darkest color. Drag your shadow layer below the heart. Select your shadow layer, select distort and toggle your nodes to make it look like the shadow is curling up. Deselect and apply a gaussian blur and change your blend mode to multiply.
Draw your floral and foliage elements on top of the heart layer. Bring your daisies forward on the heart by adding in some dark, long leaves behind. This will bring all your brighter colors to the front.
Select all of your floral and foliage elements and drag them behind your shadow layer to see how they all look behind the heart.
Add in some floating daisies to fill in any gaps, changing the scale as you go around.
Finish off your heart by applying a clipping mask to your lettering layer above the heart. Use the Bumpy Ink Brush (or any brush you'd like) to write your message.
Done!
Receive special offers on courses + products, a new design file every month plus instant access to the Resource Library!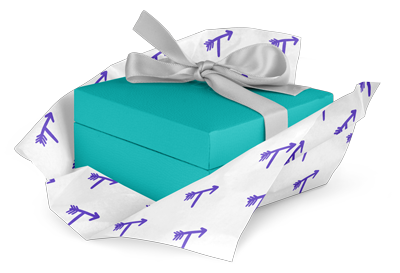 Pick up over 50 design + lettering files as our gift to you when you join the Tuesday Tribe for free!
Congrats!
Please check your email to confirm.