Happy Tuesday! Time for another tutorial 😉 This week, we're creating a simple line art floral bouquet, perfect for beginners! We'll create 5 types of florals + foliage together: violets, simple flowers, thistle, lavender and willow eucalyptus, all tied together with loose string. To finish it off, we're adding in some watercolor details and lettering using this set of brushes, but you can use any you'd like. The entire bouquet is created using my free monoweight brush and the color palette is free, as always.
Pin it for later!
Draw a Line Art Floral Bouquet in Procreate
Mentioned in this video:

Here's a written overview of how to draw a line art floral bouquet in Procreate:
Set your canvas to screen size.
Start drawing in a violet with line details that are varying in length and bumpy in style. Then draw in another violet. To add variety, add in some simple flowers to your canvas. Bring all of the stems down together so that they intersect in order to tie them together at the end.
Add in some thistles and leaves. Draw in some lavender and then finally some willow eucalyptus. Center your bouquet on the canvas.
Tie a string around the bouquet.
Don't intersect any large elements as they can get very confusing in line art.
Add a new layer and paint in your watercolor with your round paint brush for illustration and draw a big circle and fill it in. Do the exact same thing on a new layer with a different color off to the right.
Add in some lettering on a new layer with your round paint brush for lettering and write out whatever phrase you would like.
Done!
Receive special offers on courses + products, a new design file every month plus instant access to the Resource Library!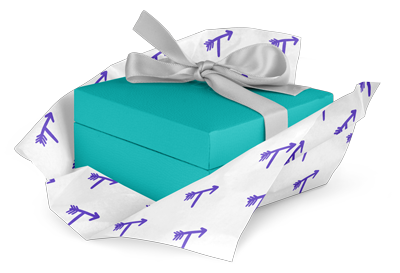 Pick up over 50 design + lettering files as our gift to you when you join the Tuesday Tribe for free!
Congrats!
Please check your email to confirm.