It's time for video no.2 (of 6!) in my holiday tutorial series! This week, we're creating a playful gift tag, surrounded by gouache details. Use the gift tag to write sweet notes, quotes or holiday greetings!
Pin it for later!
Holiday Gift Tag with Gouache Details in Procreate
Mentioned in this video:

Here's a written overview of how to make a holiday gift tag with gouache details in Procreate:
Set your background color and draw in your gift tag with the lightest color and the flat opaque brush from the gouache lovers brush set. Rough in a rectangle and fill in with color.
Punch a hole in the gift tag and grab the eraser and place it wherever you would like.
Add in a shadow to the gift tag by selecting the gift tag, create a new layer, change your color and choose fill layer on the new layer thumbnail. Warp the shadow layer to how you like it. Choose gaussian blur and drag it up to 4%. Reduce the opacity and change the blend mode to multiply.
Create a curly string that goes through the hole of the gift tag. Grab the liner brush and draw it in. Write to and from on the gift tag.
Add a lot of decorations on the background, add in as many or as few as you would like. Start with some big leaves that will anchor everything together. Grab the semi transparent brush and paint them in. Pick up your brush after each stroke for the painterly effect. Grab the liner brush and add in an inline border.
To make it look like snow is falling, grab your thick round opaque brush and vary up the pressure as you paint in little dots of snow.
Add in some berries with the dried out brush and vary up the size of them.
Done!
Receive special offers on courses + products, a new design file every month plus instant access to the Resource Library!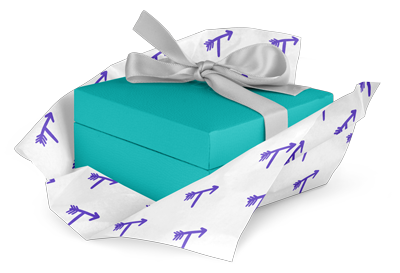 Pick up over 50 design + lettering files as our gift to you when you join the Tuesday Tribe for free!
Congrats!
Please check your email to confirm.