It's time for our final tutorial (no.6) in this year's holiday series! But don't worry – I still have a New Year's design up my sleeve for next week 😉 Today, we're creating holiday lights, surrounding them with evergreen elements and then making our bulbs and lettering glow! I'm labeling this an intermediate tutorial, but there are a few advanced skills thrown in, too, if you're up for an extra challenge.
Pin it for later!
Paint Glowing holiday Lights in Procreate
Mentioned in this video:

Here's a written overview of how to paint glowing holiday lights in Procreate:
Create your canvas by setting the background color. Next, begin working on your holiday lights. Start by adding in your lettering with the inky edge pro brush at a 10% size. Write in merry and bright with space between for the bulbs.
Paint in the lightbulbs behind all the letters and keep them all on one layer. You can alternate colors as you want. Draw the bulbs like a triangle with rounded colors. To add a little more character, change up the size of the bulbs as you go.
Add in the hooks to the tops of the bulbs.
Create a new layer and draw a line through the loops, write the word and, and then loop it through the bottom loops. Apply a layer mask to conceal the string on top of the loops by choosing true black.
Paint in some evergreen elements by drawing some branches around the canvas and draw in the needles. Create a new layer to paint in some pine needles.
Draw in some loose sketchy style leaves in the background varying the size and amount of the leaves.
To make everything glow, duplicate the light layer, select the bottom one and apply a gaussian blur and drag it up to 10%. Duplicate this layer and for the top one, change the blend mode to overlay. For the bottom layer, choose screen.
Now for the lettering, duplicate the lettering layer. Select the bottom one and apply a gaussian blur and change the blend mode to screen.
Done!
Receive special offers on courses + products, a new design file every month plus instant access to the Resource Library!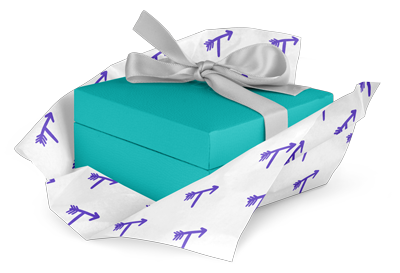 Pick up over 50 design + lettering files as our gift to you when you join the Tuesday Tribe for free!
Congrats!
Please check your email to confirm.