It's time for tutorial no.5 (of 6!) in my holiday tutorial series! This week, we're creating some whimsical mittens (because what other kind could you want?!) with flourishing strings, hand lettering and a soft snowfall.
Pin it for later!
Warm Wishes! Draw Whimsical Mittens in Procreate
Mentioned in this video:

Here's a written overview of how to draw whimsical mittens in Procreate:
Start by downloading the brushes for the project from Envato Elements.
Grab the pencil 14 for the hand lettering. Set the background color and choose the very first color. Return back to your colors, choose white, and write out warm wishes. Center your lettering on the canvas.
Next, draw the mittens with the second color and just draw one mitten. Switch to white and paint in the bottom part of the mitten. Reduce the size of your brush and draw in a simple snowflake. Switch back to the red color and draw in some lines on the bottom of the mitten. Position the mitten at an angle and then duplicate the mitten. Select it, flip it horizontally and move it down by the S.
Add in the string to the mittens on a new layer and change your color to pink. The first one will loop and connect down to the bottom mitten. Create another new layer to put the second string on.
Fill in the canvas with snow and grab the pencil one brush and change your color to white. Vary up the size of the snow as you come around and fill the background.
Choose a few of the snowflakes and paint over them to brighten them up a bit to make it seem like they are more in the foreground.
Done!
Receive special offers on courses + products, a new design file every month plus instant access to the Resource Library!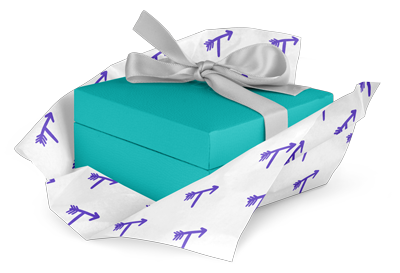 Pick up over 50 design + lettering files as our gift to you when you join the Tuesday Tribe for free!
Congrats!
Please check your email to confirm.