We're wrapping up my mini gardening series this week with a gouache wheelbarrow of flowers! While it's the most challenging of the three vids in this series, we're using many of the skills we've used before. I've also packed it with a bunch of new tips I haven't shared anywhere before (like adjusting a sketch layer's proportions and adding depth to a flower arrangement to make it seem fuller). The pace is a little quicker since we have a lot to get through, but remember! You can always go into 'drunk Teela mode' (the official name) and slow me down by hitting the little gear icon in the bottom right corner of the YouTube player and changing the playback speed 😉
Pin it for later!
Paint a Gouache Wheelbarrow of Flowers in Procreate
Mentioned in this video:

Here's a written overview of how to paint a gouache wheelbarrow of flowers in Procreate:
First sketch out the wheelbarrow and center it on your canvas. Paint it in with the thick round opaque brush.
Begin painting in the flowers of the wheelbarrow with the liner brush. Create a brand new layer for each element of the flowers to keep them organized. Save painting in the stems towards the end to refrain from making it too crowded.
Create variation and dimension by changing the number of petals, brush style and placement of petals.
Add in all of your foliage elements behind the floral layers.
To fill in the empty space between the stems, paint in a big block of color. Click on the magic wand and apply a motion blur. Then apply a gaussian blur as well.
Add in your background color and then the colored circle behind the wheelbarrow.
Draw in a shadow to give the wheelbarrow some depth by drawing an ellipse and dragging in the color.
Finally, add in your lettering.
Done!
Receive special offers on courses + products, a new design file every month plus instant access to the Resource Library!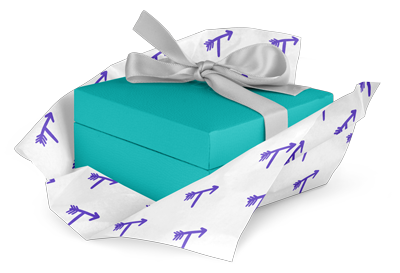 Pick up over 50 design + lettering files as our gift to you when you join the Tuesday Tribe for free!
Congrats!
Please check your email to confirm.