I just loooove a layered illusion, especially when it's made of simple elements where your eyes don't have to focus on a zillion things. What's better is being able to replicate that same process with any element! Today I'm sharing a really easy method for an impactful depth illusion and we're doing it all with *one* brush. Use this on stationery, social media posts, quote graphics…you name it!
Pin it for later!
Leafy Depth Illusion in Procreate
Mentioned in this video:

Here's a written overview of how to make a leafy depth illusion in Procreate:
Create your canvas and set your background color. Turn on the quadrant rotational symmetry.
Grab the darkest green color and the sketch brush and paint in the background leaves.
Now draw in the second layer of leaves making sure that the new layer has drawing assist turned on. These leaves should be a little bit smaller in scale than the background leaves to create some variety.
Add in the oranges, separating the colors of oranges on two different layers without the symmetry on. Some of the oranges can be touching and some can be coming off the edge of the canvas.
The last layer of light green leaves will go on the very top without the rotational symmetry turned on. These will be the largest leaves creating a border around the canvas.
Create a new layer and draw a circle in the middle of the canvas.
Add depth to the second furthest back leaves by tapping on the layer thumbnail, tap select, and then create a new layer, and choose fill layer. Choose gaussian blur and toggle it up until you can see the shadow. Change the blend mode to overlay.
The last shadow will be applied to the front layer of the leaves with the same steps. Instead of applying just the gaussian blur, select the layer, choose warp and move the grid to off center the shadow.
Add in your lettering to the middle circle or use typeable text.
Done!
Receive special offers on courses + products, a new design file every month plus instant access to the Resource Library!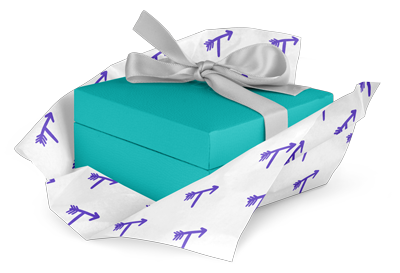 Pick up over 50 design + lettering files as our gift to you when you join the Tuesday Tribe for free!
Congrats!
Please check your email to confirm.