Happy Tuesday! This week we're painting an extra colorful watercolor feather directly in Procreate! In the video, we use several wet on wet techniques, selection methods and blend modes to create a stunning and detailed multicolored feather! This is a more advanced tutorial, so if it feels too fast at any point, you can hit the gear icon in the bottom right corner to adjust the playback speed (aka drunk Teela mode), or you can catch up on some beginner friendly tutorials here 😉
Pin it for later!
Paint a Watercolor Feather in Procreate
Mentioned in this video:

Here's a written overview of how to paint a watercolor feather in Procreate:
Sketch out the shape of the feather as a reference guide. Use a reference photo if needed! Draw in the notches and then erase away the excess. Create a solid shape by tracing over the sketch layer and drop in color.
Paint out sections of color on your selection layer of the feather. Keep the colors on separate layers. Turn off the sketch layer.
Start with the darkest color first and work towards the light colors. Grab the smudge brush and the soft wash watercolor brush. Stipple the edges to erase the really hard lines to make a soft transition between colors. Grab the dense wash brush and paint along the edge to maintain the texture but to blend the colors. Move through the rest of the colors and repeat that process of smudge brush to dense wash brush.
Duplicate all the layers and then flatten them together. Soften up some edges with the smudge tool and spot bleed brush.
Add in some extra details with the stem and feather using various lines and dots with dark and light colors.
Increase the saturation of the background color. Add in some watercolor splatter around the canvas.
Draw in your lettering with the round liner brush. Add a watercolor paper texture in one stroke and then change the blend mode to multiply.
Done!
Receive special offers on courses + products, a new design file every month plus instant access to the Resource Library!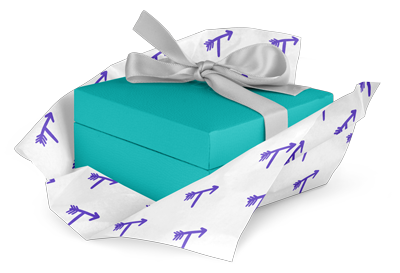 Pick up over 50 design + lettering files as our gift to you when you join the Tuesday Tribe for free!
Congrats!
Please check your email to confirm.