A while back, I shared how to type along a path in Illustrator, but what if that path is circular or closed? How to you get the text to run perfectly along the outside or inside of the circle? And if you start on one side, how do you nudge it just slightly without ruining everything? These are some questions that evaded me longer than they should have when I was starting out. Circular text is important! It's great for logos, icons, stickers and custom rubber stamps just to name a few. Read on to master circular text in Illustrator and never wonder again!
Pin it for later!
Quick Tip: Create Circular Text in Adobe Illustrator
Mentioned in this video:

Here's a quick summary of what we did to create circular text in Adobe Illustrator!
For same direction text around the same circle:
Create a circle using the shape tool from your toolbox.
Grab your 'type on a path' tool (located within your text tools) and click anywhere on the circle to begin typing.
Type your phrase and use the handle to move and flip the text on your path.
With your text selected, utilize more options by going type > type on path > type on a path options.
Click the preview box and adjust flipping the direction it reads, spacing and the texts' alignment to the path.
Once finished, make any final edits to your text – position, extra tracking, size, etc.
Finish your design off by adding a shape or phrase to the center!
For different direction text around the same circle:
Once you have your initial text, copy it (cmnd or ctrl + c), then lock it in place (cmnd or ctrl + 2).
Paste the copy directly on top of the original (cmnd or ctrl + shift + v).
Edit the copy and position as desired and add in any extra text or shapes to your design.
Unlock your locked object (object > unlock all) and group all elements together.
Done!
Receive special offers on courses + products, a new design file every month plus instant access to the Resource Library!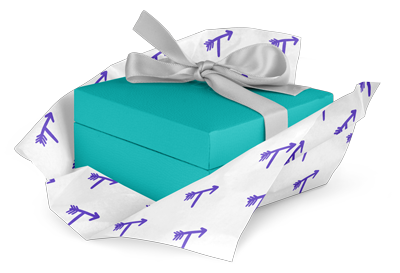 Pick up over 50 design + lettering files as our gift to you when you join the Tuesday Tribe for free!
Congrats!
Please check your email to confirm.