This week, we're creating a colorful butterfly in Procreate! In support of racial equality + the need for change happening globally and especially today, I bring you a symbol of beautiful transformation 🦋 This is very beginner friendly, uses only one (free) brush and the color palette is free, as always (both are also available in the Resource Library.
Pin it for later!
Create a Colorful Butterfly in Procreate
Mentioned in this video:

Here's a written overview of how to create a colorful butterfly in Procreate:
Turn on your symmetry settings and make sure it defaults to a vertical line.
Freehand the outline of the butterfly. Fill in the design of the wings using whatever shapes you like to make it artistic.
Start color filling in all of the different areas. Use complimentary colors on the bottom.
Center the butterfly on the canvas.
Add in some shading so that it looks like the bottom wings are behind the top wings. Draw out a little bit of black shading along the top of the bottom wings. Apply a gaussian blur.
Create highlights with white and apply a gaussian blur. Change the blend mode to overlay.
Apply a warped shadow to the whole butterfly. Tap on the butterfly layer and hit select, create a new layer below it, and fill the layer with black. Select the shadow and choose warp. Warp the bottom two corners to make it look like it is peeling up from the canvas. Reduce the opacity and then duplicate it.
Create another shadow layer and now stretch the shadow beyond the first shadow. Apply a gaussian blur to both shadow layers.
Remove any excess shadows around the top of the butterfly.
Done!
Receive special offers on courses + products, a new design file every month plus instant access to the Resource Library!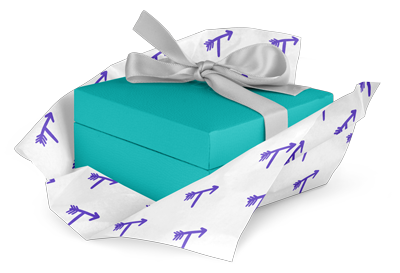 Pick up over 50 design + lettering files as our gift to you when you join the Tuesday Tribe for free!
Congrats!
Please check your email to confirm.