To keep things extra organized this year, I thought it'd be fun to create a new calendar design (here's last year's version!). For this one, we'll be creating a versatile wreath that can be used for any month of the year. I'm also sharing a new method I've come up with for creating uniform spacing within the calendar no matter what size 2D grid you use 🙂
Pin it for later!
Easy Wreath Calendar Design in Procreate
Mentioned in this video:

Here's a written overview of how to make an easy wreath calendar design in Procreate:
Start by establishing the circular base for the wreath. Draw a circle and reposition it into place.
Next, reduce the opacity of the circle and now add in some rotational symmetry.
Paint in some simply leaf shapes as the anchor of the wreath. Fill them all in with color.
Add in some one-off elements so that it is not too matchy on each side. Fill in these elements with color again. Apply a clipping mask to the leaves and add in a line detail.
Next, paint in some little blue flower clusters by turning on the drawing assist again. Create a new layer with a clipping mask and add some detail to each blue flower cluster. Add in the stems and leaves for these flowers.
Fill in the gaps around the wreath with little five petaled pink flowers. Add in their stamens.
Add in the calendar by changing the drawing guide to the default. Write in the days of the week in the middle cross hair of each 4 squares. Add in the numbers of the week following the same guidelines.
Write in the name of the month above the calendar, turn off your guides and you're all set.
Done!
Receive special offers on courses + products, a new design file every month plus instant access to the Resource Library!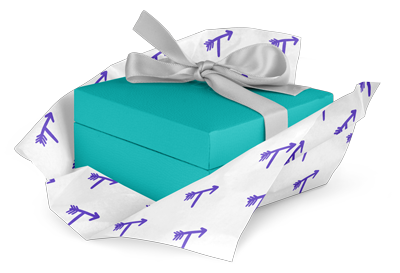 Pick up over 50 design + lettering files as our gift to you when you join the Tuesday Tribe for free!
Congrats!
Please check your email to confirm.