It's Tuesday! Time for another tutorial 😉
A few years ago, I shared how to create a pattern letter effect using Adobe Illustrator and I randomly came across that tutorial and wanted to give it a try in Procreate, too. With a few masking tricks and a custom diagonal line pattern brush, pattern letters in Procreate were born! This tutorial is one of my most advanced ones to date, so if you haven't taken my free Procreate 5X for Beginners course yet, you'll want to watch the masking module in that first. Once you understand the steps, though, this is a super fun effect you can apply to your typography or even abstract shapes for some really unique outcomes!
Pin it for later!
Create Pattern Letters in Procreate
Mentioned in this video:

Here's a written overview of how to create pattern letters in Procreate:
Set the text by hitting the wrench –> add –> add text. Double tap to select everything, increase the size and tracking. After this point, the text will not be editable.
Tap on the text thumbnail and hit rasterize.
Go out into the gallery view and create a new canvas. Set a black background to your layer 1. Create a new layer, select white and grab the monoweight brush and draw in the diagonal line. Flatten the layers together. Make a copy of the flattened layer.
Come back to the text canvas and hit the + button to add a new brush. Come to grain and hit edit. Hit import and then hit paste.
Change the grain to textured. Under properties, make sure orient to screen is toggled on.
Come to your ABC layer, hit select, come to a new layer above, and paint inside the letters with the new brush.
Apply a layer mask on the ABC layer, select black, and change your settings to rectangle. Draw a rectangle cutting the shapes in half. Fill with black.
Tap on the layer mask and choose select. Choose invert, tap on the diagonal ABC layer and choose mask.
Done!
Receive special offers on courses + products, a new design file every month plus instant access to the Resource Library!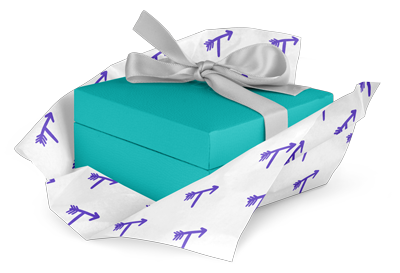 Pick up over 50 design + lettering files as our gift to you when you join the Tuesday Tribe for free!
Congrats!
Please check your email to confirm.