I first realized how big of a deal enamel pins were when I worked on the Coca-Cola sponsorship of the 2014 Olympic Winter Games. The design studio I was working at had a giant collection of pins from past Olympic Games and they were incredible. Lately, I've been seeing them more and more and thought a tutorial on how to create the concept art for one would be fun. In this tutorial, I walk you through the exact steps I took when presenting enamel pin concepts to a client for approval. The goal was to give a general impression of how the pins would look once created. Once the client had approved them, our production director got in touch with a manufacturer who provided the info we needed to prepare production files. This video details the very first step of that process – read on to see!
Pin it for later!
Create Enamel Pins in Adobe Illustrator
Mentioned in the video:
Gradient colors (RGB):
Medium brass: 213/179/64
Light brass: 244/227/126
Dark brass: 179/141/52

Here are the written directions after the popsicle has been designed to apply the brass + shadow:
Group the design and make a copy, then paste a copy of the design directly on top. Use the pathfinder palette to merge the top copy into one shape.
With the shape selected, go object > path > offset path. Check the preview box and test sizes until desired, the one used for the video was 0.025in.
Remove the smaller, merged shape and send the larger shape to the back. Apply the gradient and change its angle to 45*.
Adjust any design tweaks, like lowering the stick size and adding the interior brass details on top of the popsicle shape.
Apply the drop shadow. With your brass shape selected, go to your appearance palette (window > appearance) and toggle down the 'fx' icon. Choose stylize > apply drop shadow. Check the preview box and adjust the settings. The settings used in this video were: mode: mulitply, opacity 25%, x offset .01 in, y offset .01 in, blur .01 in, color: black.
Receive special offers on courses + products, a new design file every month plus instant access to the Resource Library!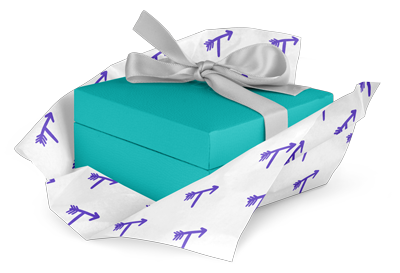 Pick up over 50 design + lettering files as our gift to you when you join the Tuesday Tribe for free!
Congrats!
Please check your email to confirm.