This week is our most advanced project of them all, so if you're just starting out with Procreate, be sure to check out vid 1 + 2 first. In this tutorial, we'll be creating a sealed floral love letter surrounded by flat style forget me not flowers. We'll build our envelope from scratch by utilizing a sketch layer with drawing guides, then layer on color and elements for a final piece that is embellished with lettering.
Pin it for later!
Paint a Floral Love Letter in Procreate
Mentioned in this video:

Here's a written overview of how to paint a floral love letter in Procreate:
Sketch out your envelope with a hand drawn look and reduce the opacity of your sketch layer.
Then, create a new layer for each side (top, bottom and sides) of the envelope and drop in your color.
Add shadows under each layer of the envelope. Apply a gaussian blur to your layer, reduce the opacity and change the blend mode to multiply. Repeat the process for each side of your envelope.
Create a background shadow by duplicating all your layers and select your bottom copy, create a new layer above it and fill layer with your darkest color. Apply a gaussian blur and change the blend mode to multiply.
Draw your Forget Me Not flowers – check out my reference photo for inspiration here: Flower Photos Pinterest board. Add depth to your flowers by using various shades of blue on separate layers.
Surround your flowers by adding in various shades of green leaves behind your floral layers.
Finally, add your lettering message using the Jittery Ink brush (or editable text) in between your green leaves layers to add dimension to your lettering.
Done!
Receive special offers on courses + products, a new design file every month plus instant access to the Resource Library!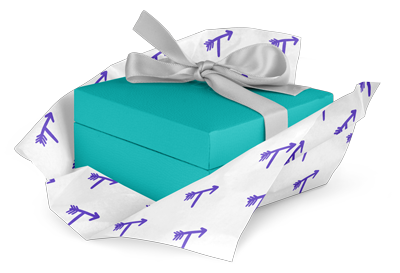 Pick up over 50 design + lettering files as our gift to you when you join the Tuesday Tribe for free!
Congrats!
Please check your email to confirm.