Spence and I love taking morning walks on our country road and the sides of the road have recently become covered with different wildflowers! I've been so inspired by these walks, wondering what I'll spot next. When thinking about this week's tutorial, I couldn't get them off my mind, so today I have a messy spring wildflower bouquet for you! I grabbed a source photo as a base and in the video, you'll see how easy it is to manipulate that base and make something original from it, messy details and all 😉
Pin it for later!
Paint Messy Spring Wildflowers in Procreate
Mentioned in this video:

Here's a written overview of how to paint messy spring wildflowers in Procreate:
Grab your source photo from the flower reference photo board. Insert into Procreate and create a sketch layer. Grab your sketching pencil and grab the elements you want to use from the reference photo. Trace over the flowers.
Loosely draw in the stems and center the sketch layer.
Create a new layer and use your medium paint round brush to start painting in the daisies first. Create a new layer for each different element.
Paint in the stems starting with the lightest greens and moving towards the darkest green. As the number of greens go up, they will decrease in quantity.
Add in a twine bow around the flowers with the sketching pencil brush.
Draw in some messy effects around the bouquet by adding a new layer all the way at the top. Add in some paint splatter.
Finish off with some hand lettering or editable text.
Add in a watercolor paper texture to the top with the fine tooth paper texture, painting over the canvas in one stroke. Change the blend mode to multiply.
And if you'd like to take it one step further and add in some line art to your messy spring wildflowers, check out this tutorial.
Done!
Receive special offers on courses + products, a new design file every month plus instant access to the Resource Library!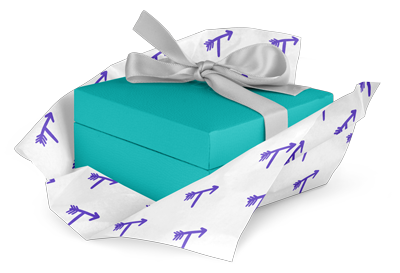 Pick up over 50 design + lettering files as our gift to you when you join the Tuesday Tribe for free!
Congrats!
Please check your email to confirm.