Happy Tuesday! This week I wanted to share a tutorial from my most recent online course, 3D Lettering in Procreate. The course takes you through 5 beginner basics projects and gets you comfortable with a bunch of 3D techniques. After that, there are 6 advanced projects that combine those basic techniques while adding on new ones for some extra stunning, pop-off-the-screen outcomes. This week I'm sharing one of the beginner basics techniques: the peeling sticker effect in Procreate. Read on to see it all!
Pin it for later!
Create a Peeling Sticker Lettering Effect in Procreate
Mentioned in this video:
Colors used (hexidecimal):

Here's the written version for what we did to create a peeling sticker lettering effect in Procreate!
Create a screen sized document, add in a background color layer and create your lettering on a new layer.
Use the 'select' method to paint a tri-ombre/gradient effect onto your lettering, on separate layers. Use a multiply blend mode for the bottom/darkest layer and overlay for the lightest/top layer.
Next, create a copy of your base lettering, color it your darkest color, set the layer's blend mode to multiply and label it 'shadow'.
Select the shadow layer and warp the shadow the direction you'd like it to go to create the peeling effect. Only warp the top segments of the grid to make it believable.
Once you're happy with your warp, deselect and apply a gaussian blur.
Apply a layer mask to your shadow layer and with a soft brush (with the color black), paint away the shadow from the bases of the letters. Check out this tutorial for more on layer masking.
Finish your design with a soft, backlit glow and you're done!
Receive special offers on courses + products, a new design file every month plus instant access to the Resource Library!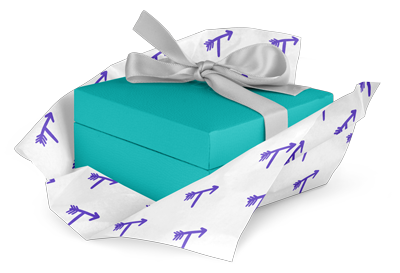 Pick up over 50 design + lettering files as our gift to you when you join the Tuesday Tribe for free!
Congrats!
Please check your email to confirm.