Hope you had a wonderful holiday! Since we're just about to welcome the new year, this week I thought it would be fun to make a custom resolutions list in Adobe Illustrator! We'll create it in a printable style, so you can reuse it every year, too. Grab your free holiday vector pack and create your own below!
Pin it for later!
Create a Resolutions List in Adobe Illustrator
Mentioned in the tutorial:
The colors used in this tutorial are (CMYK):
Light Pink: 0/20/30/10
Mint: 30/0/30/8
Cream: 1/0/8/4
Lime: 10/5/70/15
Tan: 0/11/25/35
Here are the other tutorials in the holiday vector pack series:

Here are a few helpful tips from this tutorial!
Utilize the reflect shortcut to save time! Hit 'o' on your keyboard, click where you'd like to reflect, then hold shift and drag your selected artwork over the reflection point. Be sure to group multiple elements to reflect them all at once.
For creating evenly distributed lines quickly, utilize the blend tool. Choose 'specified steps' from the blend tool menu (double click the icon to bring up the menu). When dictating how many spaces you'd like, apply one less than the amount of spaces you need as your specified steps. For example, if you need 10 spaces, apply 9 'specified steps'. For replicating items, deduct 2 from how many you need. Example: if you need 10, input 8 for 'specified steps'.
To make a quick ribbon, hover over the center node in a rectangle and hit '+' on you keyboard. Click once, then nudge the point inward using your arrow keys. Repeat on the opposite side, being sure to nudge the same number of times.
Remember to apply a bleed to your document (.125″) if you'd like color extending completely to the edge(s) once trimmed. When saving your pdf, be sure to check 'trim marks' under the 'marks and bleeds' category of your pdf dialog box.
Receive special offers on courses + products, a new design file every month plus instant access to the Resource Library!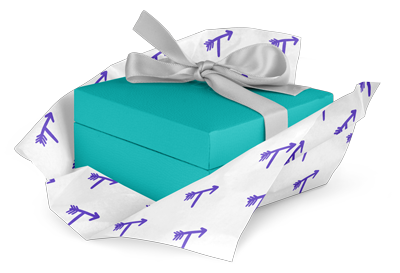 Pick up over 50 design + lettering files as our gift to you when you join the Tuesday Tribe for free!
Congrats!
Please check your email to confirm.