I think it's pretty clear that I love cute polaroids + post-its and how easy it is to to make them lift from the screen 🤩After making my free washi tape stamps, I couldn't stop myself from drawing more! This week, I'm bringing you a fall themed post-it that uses all free brushes – two of my own and one in Procreate's default library. It's the perfect element to display all of your sweet fall messages whether you use hand lettering or typeable text.
Pin it for later!
Washi Taped Fall Post-It in Procreate
Mentioned in this video:

Here's a written overview of how to make a washi taped fall post-it in Procreate:
Set your background color and draw out your post it note with the free signature brush.
Add in the washi tape (washi long 3) and move it into place.
To create the illusion that it is lifting off the screen, select the post it layer thumbnail and fill the layer with the dark blue color. Drag it under the white layer and warp the dark layer's corners to warp the shadow. Next, apply a gaussian blur, reduce the opacity and change the blend mode to multiply.
Begin drawing in the main foliage with the signature brush around the post it note corners. Add in some details within the leaves using layer masking. Draw a line within the leaves and add little v's for every leaf.
Next draw in some line art foliage on a brand new layer and fill in any gaps or white space. Draw in the berries in any remaining spaces.
Now add in some background texture and switch to the Oberon brush and softly draw over the whole canvas with some breaks in the color. Change the blend mode to soft light.
Finish with some hand lettering with the signature brush or use typeable text.
Receive special offers on courses + products, a new design file every month plus instant access to the Resource Library!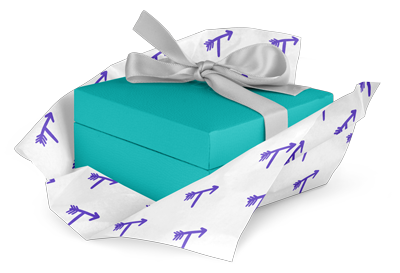 Pick up over 50 design + lettering files as our gift to you when you join the Tuesday Tribe for free!
Congrats!
Please check your email to confirm.